| | |
| --- | --- |
| Baron DIMSDALE and Essendon Place. | |
Essendon Place from the Lawns

Postcard by L. Dunkley, Post Office, Essendon

Posted August 1915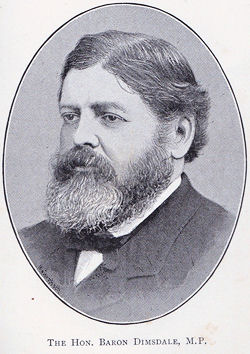 5th Baron Charles John Dimsdale (1801-1872) moved to Essendon Place from Tolmers, Hatfield in 1834, and was almost certainly responsible for building the house.
6th Baron Robert Dimsdale (1828-1898) was born at Tolmers and was educated by the Rev. B. Peel, Northcotts, Hatfield, then Eton (1841) and Corpus Christi College, Oxford. On leaving Oxford her had chambers in the Temple but was never called to the Bar. In 1853 he married Cecilia Southwell. He stood unsuccessfully for parliament at Hertford in 1859 but was elected in 1866 and held the seat until 1874. He later was M.P. for Hitchin between 1885 and 1892. In 1887 he was Vice-Chairman of the Hertfordshire Quarter Sessions, Chairman of the Hertfordshire Conservative Association, Chairman of the Hertfordshire Local Examinations Board, Secretary of the Hertfordshire Labourers' Friend Society, Chairman of the North Herts branch of The Small Holdings and Allotments Association. He was also a member of The Diocesan Board of Education and The Church Defence Association.
Information and photograph from Hertfordshire Men of Mark
7th Baron Charles Robert Southwell Dimsdale (1856-1928)
By 1912 Mrs Edgar Lubbock was living there - possibly as a tenant until the place was sold.
SMALL TALK The Flitting of Lord Dimsdale. If Lord Dimsdale, the latest Peer to succumb to the epidemic of selling, is as well paid for the Essendon estate as his ancestor for a few minutes' work in 1768, he will not grumble. The mementos of the momentous episode, including a portrait of Catherine Empress of Russia, set in diamonds, have long been kept at Essendon Place, but Lord Dimsdale prefers another residence, and in October, if not before, the fine Georgian house will pass from his hands. The payment made to the first Lord Dims dale for inoculating Catherine and her son was of several kinds £10,000 down, an annuity of £500, £2000 for expenses, besides trophies in diamonds, and the barony of Dimsdale, do not complete the list. But if the inoculation had not been successful, Catherine, it was thought, would have ordered her executioner to perform an operation of a graver nature. At any rate, precautions were taken to enable the English doctor to leave Russia in a hurry.

The Sketch, 7 August 1912

Sheffield Daily Telegraph, 19 September 1912

Messrs Knight, Frank and Rutley yesterday sold by auction the Essendon Place estate - 120 acres - in Hertfordshire, comprising a Georgian house, a park of nearly 100 acres, and small residentual and cottage properties. The house, farms, and 100 acres were sold for £13,500 to Mr. D. Citroen.

Globe, 5 October, 1912
In 1914 and 1917 David Citroen was living in Essendon Place

Herts Mercury 8 September 1917 à

1st Baron Essendon, Sir Frederick Lewis (1870-1944) was a shipping magnate who became a Baron in 1932 was living in Essendon Place by 1922

Liverpool Echo 24 June 1944 àà

Lady Essendon was still living at Essendon Place in 1947

The house still exists, obviously with a major extension added after the earlier postcard, but has been now been subdivided into a number of properties.
See also FROST, Essendon Place, 1840-1860.
If you can add to the information given above tell me.