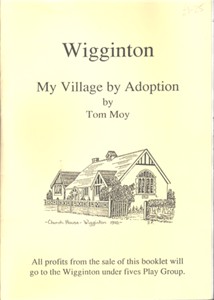 Wigginton
My Village by Adoption
by Tom Moy
Mike Bass & Jill Fowler, 2000?
Booklet, 21 * 15 cm, 16 pages, some line drawings
Tom Moy (1914-1993) moved to Wigginton in 1931 and lived there until 1990, when he moved to nearby Tring. These notes were compiled between 1983 and 1989 and published after his death. There is a short history but the most valuable part is his own recollections of life in the village - exemplified by the following extract.
On Mondays fresh fish was brought round by Johnsons of Tring. On Wednesday two butchers came round the village - Wrights of Tring, who had a motor van, and the New Mill butchers who had a horse-drawn box van. One could purchase mid-week supplied from either.

Bread was delivered daily by Mr Kingham, the village baker. Other deliveries were by Warriors of Tring three times a week. Grace of Tring, and the Tring Co-op who also delivered grocery orders on Fridays. ...

The papers were delivered daily by Goddards of Tring, except on Sunday when they were delivered by Mr Sidney (Nobby) Burch. ...

Coal was delivered by Mr George Burch, a local trader, also by Mr Bedford of Dudswell, the Tring Co-op, Lockharts of Tring, Gowers of Tring and Pallets of Cholesbury. Gowers, the hardware shop of Tring, delivered paraffin; one could also purchase soap, soda, candles, pots, pans, brushes and polishes from the van.