John Cary's Map of Hertfordshire
1806-1821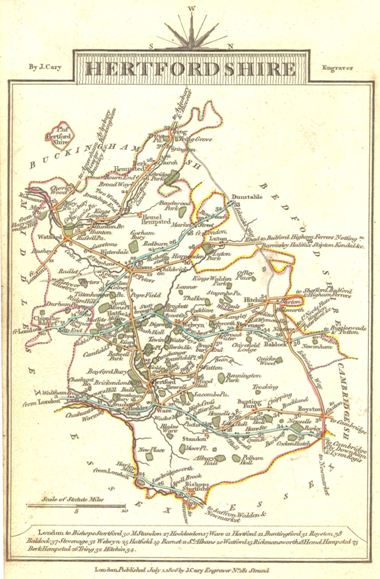 This pocket-sized map is printed with North to the right, and at the bottom there is a list of towns, together with their distances from London. It is a re-engraved and somewhat revised version of Cary's map of 1789,, which in turn was based on Dury & Andrew's survey and map of 1766. It shows the county on a scale of 10 miles to the inch.
This map first appeared in Cary's traveller's companion, or, a delineation of the turnpike roads of England and Wales ... laid down from the best authorities, on a new set of county maps ... in 1806, and was reissued in 1810, 1812, 1814, 1817, 1819 and 1821 with only the date in the imprint altered.
The map is number 66 (i) in D. Hodson's The Printed Maps of Hertfordshire 1577-1900. It was published with the map of Herefordshire on the back.

The above detail shows the parish of Sandridge
Page created November 2008