Abbots Langley

Sources of Information
Abbots Langley Local History Society includes further information on publications and web sites relating to the village. The Leverstock Green Chronicle contains detailed information on those parts of the parish which are now part of Leverstock Green. The Parish of Abbots Langley & Bedmond site relates to the present day Church of England churches while a separate site, maintained by Stuart Little, gives the history of the Church of St Lawrence the Martyr. The Abbots Langley Methodist Church site contains a useful amount of history of the Methodist Church. The Parish Council site includes details of walks to places of interest.
As an ancient parish there are chapters on Abbots Langley in all the standard histories of the county, and it will be mentioned in most books which attempt to cover the county in reasonable detail. Information on the village is given in the Homeland Guide Watford and its surroundings, published in 1906 - and information can be expected to occur in other books which describe Watford and its surroundings. The Council has also published a series of Official Guides (the earliest I have seen published in 1967) which contain a short history of the town.
Abbots Langley, by S G Thickness, published in 1946, is not the easiest read and The Church and Parish of Abbots Langley, by R S Wilkinson, published circa 1959, is better - but lacks an index. Abbots Langley - An Outline History by Scott Hastie, a booklet published in 1986 is superceded by his much more significant volume, Abbots Langley, A Hertfordshire Village. This was published in 1993, with an informative text, a good index, and a very large number of photographs, and must be the local history of choice. His later book, A Hertfordshire Valley, published in 1996, includes a chapter on Abbots Langley, as well as excellent coverage of the other towns and villages along the valley.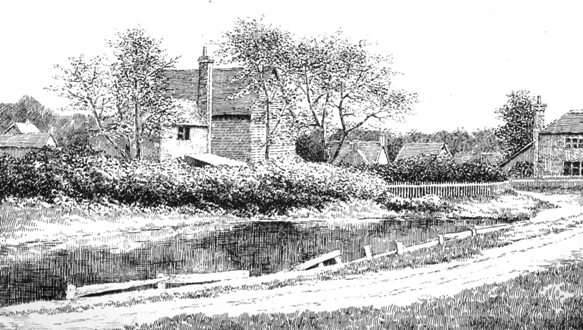 Abbots Langley Green [Picturesque Hertfordshire]
The book Abbots Langley Then - 1760-1960 by Clive W. Clark, and published in 1997, takes an unconventional approach to presenting local history. It is what might be called "faction" - with an attempt to recreate the past and the conversations that took place. It is not my style, but each chapter has a detailed list of source references that he used in his reconstruction.
Three specialised booklets are of potential interest. I have not seen T.C.E. Green's A short account of the Church of St. Lawrence, Abbots Langley, written in 1931. In 1928 the Salvatorian Fathers settled in Langley House and their story, and the founding of Breakspear College and the building of the Roman Catholic Church St Saviours, is celebrated in Salvatorian Golden Jubilee Abbots Langley 1928-1978. A very different anniversary is recorded in The Newfangled Scheme - The First Hundred Years, This was written by C. W. Clark and records the history of the Abbots Langley Parish Council (1894-1994) as recorded in the Council minutes.