Frederick Izydor Spurgin was born in Russia (possibly Latvia) in about 1884 and possibly came to England before 1901 when his parents and siblings were living in Lancashire, and he was possibly at boarding school. Fred was living with his parents in Brixton in 1911, when he was described as an artist & designer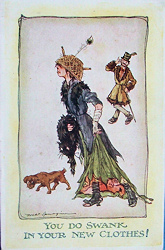 His cards started appearing in about 1910 and his work became very popular, with many designs, each with a handwritten signature. He did work for the following companies:
Art & Humour Publishing
Avenue Publishing Co
E J Hey & Co
International Art Co.
JohnThridgould & Co
Watkin & Kracke Ltd