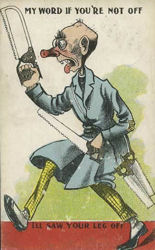 However there are serious problems in making any association with the Crown Publishing Company of St Albans and the Corona Publishing Company of London.
The card on the left (Coronation Series 28) was posted in 1907 by A & E Coppock of 48 Coronation Street, Blackpool and used an almost similar logo. It would therefore seem that the London company was closely linked with the Blackpool firm and the "Coronation Series" relates to the Blackpool address.
This, and the lack of any similarity of art style with "F S," means that there is no point in any further research in this direction.