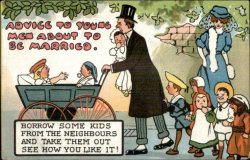 Advice to Young Man About to be Married
Borrow Some Kids from the Neighbours and take them out.
See how you like it
No Signature
S & M, New York & Berlin
Printed in Germany
Other versions see Advice to ... Series
Posted in California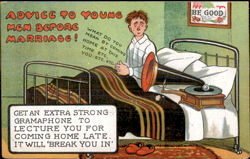 Advice to Young Men before marriage
Get an extra strong gramophone to lecture you for coming home late. It will break you in!
No Signature
S & M, New York & Berlin
Printed in Germany
Other versions see Advice to ... Series
Posted in Massachusetts
19 September 1908