Saucy Little Bird
Probably "F S"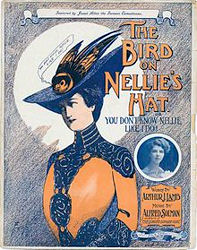 A set of six post cards, copyright 1908 by A Q Southwick, N.Y carrying the set reference number "N17." They are unsigned - for discussion about the artist see the Southwick page.
"The Bird on Nellie's Hat" was an American music hall song written by Arthur J. Lamb & Alfred Solman and published in 1907. It was performed by Maidie Scott (1887-1966) and Ada Reeve (1874-1066)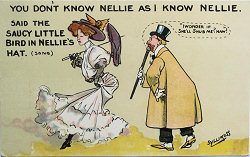 The song was also used as the subject of a postcard published in England by Syllikuss - "You don't know Nellie as I know Nellie."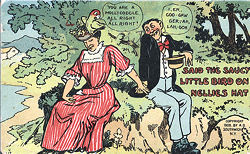 Said the Saucy Little Bird on Nellies Hat
I, er, goo-gaw ger-ah lah-ooh
You ar a mollycoddle all right all right!
No Signature
Southwick
Ref N17
1908 Copyright