Can you help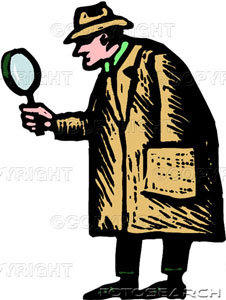 The Postcard Detective
Group of Men
Brent Pelham?, 1920s?
Can you identify these people?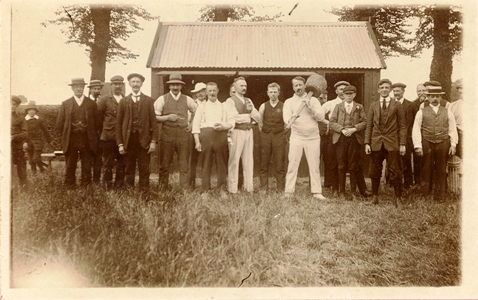 The postcard shows a group of men standing in front of a shed. Someone has written "Brent Pelham" on the back. Can anyone identify any of them?

What is the man on the right carrying?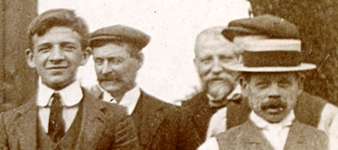 If you can identify the group, and the names of any individuals please tell me.
December 2007

Andrew W Briars (andy @t statoil.com) writes from Norway: This may not help, especially as the man with the "strange" tool is on a cricket ground. (Man on far right has pads on). When I was a boy 50 odd years ago they used this tool to lay paving slabs. The slab was placed on loose even sand and thumped into place & correct level with this type of tool. But why would they have this on a cricket pitch ?.

I missed the pads - but on looking again I see that one of the men near the centre is holding a cricket ball - and of course the man with the object could be in cricket whites. Perhaps the tool was used for flattening out minor unevenness on the wicket??
I decided to take a closer look at the building. It appears to be built of wood with a corrugated iron roof. It has a door on right, but its main feature is a large unglazed window, possibly with some kind of shuttering. Could it have been a refreshments hut with food and drink served through the window?? It is clearly not a cricket pavilion, while the window arrangement and comparatively narrow door mean it is not ideal as a storage shed.

Again any ideas??
| | | |
| --- | --- | --- |
| I decided to see if Brent Pelham had a cricket club by doing a search on google and came up with this picture on a page devoted to the history of the Langley, Essex, Cricket Club. It shows the Langley cricket team at Brent Pelham in the early 1900s. While the building is clearly very different it does establish that village cricket was played at Brent Pelham in the early 20th century. | | |
There is a web page for Brent Pelham
Page updated December 2007