Can you help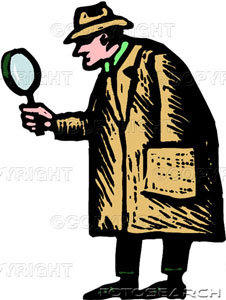 The Postcard Detective
Injured First World War Patients
St Albans Area
[The County of Middlesex War Hosptal, Napsbury]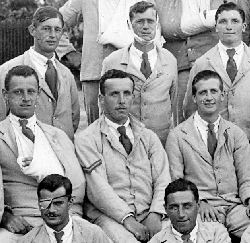 Success
A soldier identified at The County of Middlesex War Hosptal, Napsbury - see below
The picture shows about 40 wounded soldiers, the matron, three nurses, and a red cross orderly. This suggests it represents a single 40 bed ward.

The quality of the real photograph is such that it is possible to extract very recognisable individual portraits.

The picture was taken by Ricado Studios, London Road, St Albans, which is known to have taken other First World War photographs. This card is numbered 7481, and another patient photograph believed to be taken at Napsbury is numbered 8627A.
Can you identify any individuals and/or the location?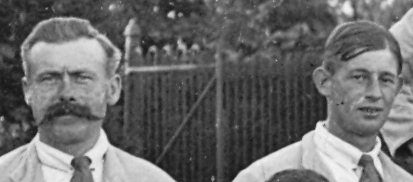 The location is unknown but is almost certainly a military hospital near St Albans - possibly Napsbury.
The only clues in the picture is that the group is standing in front of a hedge with an iron fence/gateway and a thatched summer house or garden shed.
Do you have an identified photograph of WW1 military patients taken in the same location?
Roy Baird (r.baird @t talktalk.net) of Ballymena, N. Ireland, writes: My uncle is in the photograph which we also have. He is the L/Cpl seated 3rd from left in 2nd row from front. His name: Samuel G. Baird, Regiment: 10th Bn Royal Inniskilling Fusiliers [36th (Ulster) Division]. He was wounded at Thiepval on 1 July 1916 and transferred to a hospital in England. Correspondence was sent from his family here, addressed to him at The County of Middlesex War Hosital, Napsbury, so it was always assumed that this photograph was taken while he was there. He returned to France in April 1917 and was wounded again on 28 March 1918 but fortunately survived the war.

There can be little doubt that the picture was taken at Napsbury Hospital.
Sue Wigham (wighams @t talk21.com) of Durham sent the following later photograph: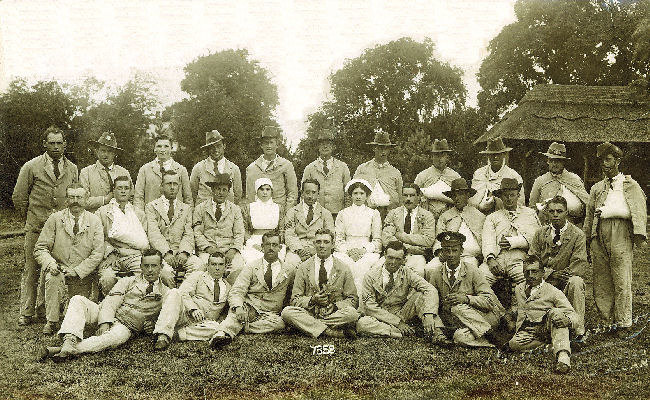 Click on picture for enlarged image
| | | |
| --- | --- | --- |
| Sue wrote: Two of our relatives, two brothers served with the DLI [Durham Light Infantry]. One of them was definitely gassed during service in France and this photo was found in his wallet. All the other photos in his wallet were of family members. He survived and died in 1950 with the cause being given as attributable to the gassing. We can't really identify him or his brother from the photo although he may be on there. We haven't traced his medical record yet so don't know if he was shipped home to a hospital, although we know he was in Aldershot in April 1916 when he married. The picture looks as if it had been taken in the same location as the photo on your website - see the thatched hut in the background - and by the same photo studio. Ours is stamped Ricardo studios London Road St Albans too and the photo number centre front is 7358. | | |
Page updated December 2008