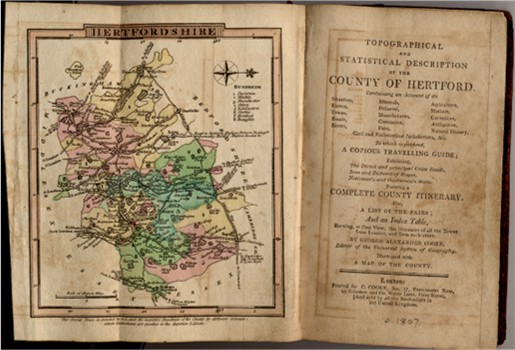 This is, as far as I am aware, the earliest pocket guide aimed at travellers to the county, and contains a wealth of useful information.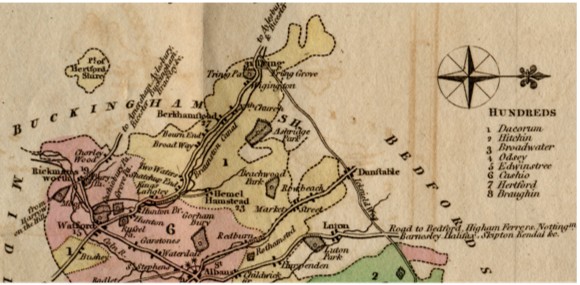 It starts with a map of the county which, unusually, is printed with the West at the top. It shows the main roads, the rivers and the newly opened "Braunston Canal". Towns are named, as are Noblemen's and Gentlemen's seats. The hundreds are indicated by colour.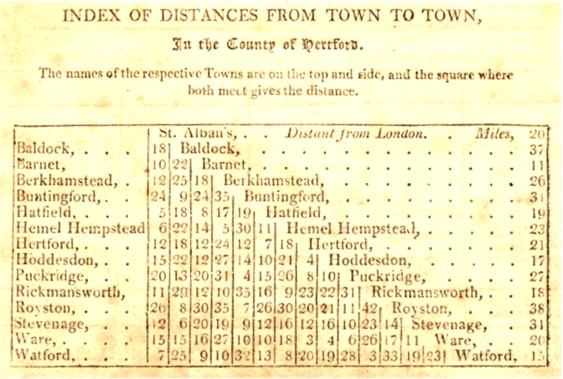 There is then a triangular table of distances based on the main towns, and a table of statistics about the county.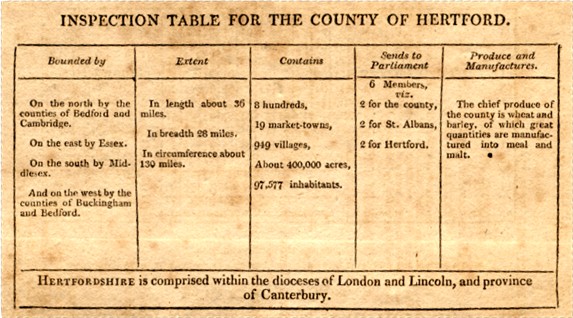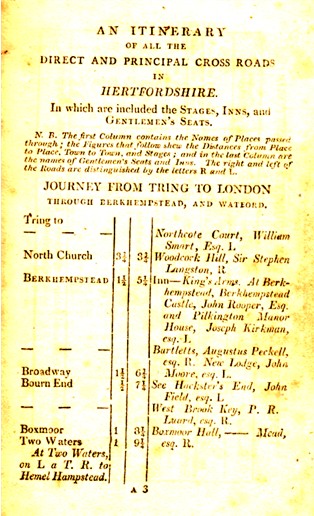 There are a series of itineraries in the style of Paterson's roads, covering the following journeys:
From Tring to London through Berkhempstead and Watford.
From Dunstable to Barnet through St Albans.
From Royston to Waltham Cross through Buntingford, Puckeridge, Ware and Hoddesdon.
From Bourn Bridge to Sawbridgeworth through Quendon, Stansted, Mountfitchet and Hockerill or Bishops Stortford.
From Hitchen to Hoddesdon through Stevenage and Hertford.
From Tring to Royston through Dunstable, Hitchin and Baldock.
From Charley Wood to Ware through Rickmansworth, Watford, St Albans, Hatfield and Hertford.
As can be seen from the sample, this included route instructions, distances, the names of the main inns, and the houses of gentlemen passed on the way. This is followed by a list of the fairs held in Hertfordshire, and a general description of the county.
Five routes are now taken through the county, but this time describing in some detail the towns and villages passed through on the way:
From Cambridge to London through Royston, Ware and Hoddesdon.
From Royston to Hertford through Baldock and Stevenage.
From Bedford to Chipping Barnet through Hitchin and Hatfield.
From Dunstable to Edgware through Redburn, St Albans, Watford and Bushey.
From Aylesbury in Buckinghamshire through Drayton Beauchamp, Tring, Berkhempstead, Watford and Rickmansworth.
This delightful little book finishes with a section of agriculture, an account of earlier sources and a content list.
Extensive extracts from this book are given for Berkhamsted and Tring.
Locating Books
At the time this page was last updated this book was judged to be rare.
Page updated December 2008