Jan Jansson
MIDDELSEXI∆ cum HERTFORDI∆ COMMITATU
1646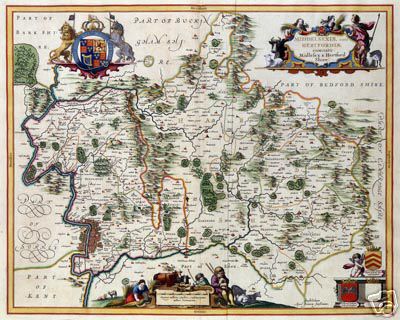 A map, based on Speed, showing both Middlesex and Hertfordshire, published with West at the top.
Various editions 1646-1724 published by Jansson in Amstedam in atlases in Latin, French, Dutch and German, often with the text of Camden's Britannia on the back.
The Hertfordshire map was based on Oliver's map with some detail from Mordon with details from A New and Correct Mapp of Middlesex, Essex and Hertfordshire with thRoads Rivers and Sea-Coast &c actually surveyed by Warburton, Bland and Smyth, More information is given in Printed Maps of Hertfordshire.
Page created May 2007