Abbots Langley

The Booksellers Retreat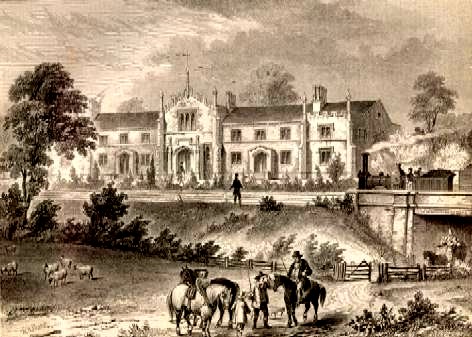 The Booksellers Provident Retreat at Abbots Langley, Herts.
published in 1848
The attractive house called the Booksellers Retreat is rather hidden away, near the railway line at the bottom of Kindersley Way. In 1842 John Dickinson of Apsley Mills gave three acres of land to the newly-founded Booksellers Provident Society, so that they could build local accommodation for their members. The foundation stone for the original building was laid on 3rd September 1845, by the 6th Earl of Clarendon. The architect responsible for the attractive design of the house was W H Cooper of Grays Inn, London. The purpose of this project was to provide a retirement retreat for those members, or their widows, who were receiving annuities from the Booksellers' Society. This noble purpose still continues and in 1965 the first of 24 modern bungalows was added to the accommodation on the site. The original Provident Society has now become the Book Trade Benevolent Society and this body remains responsible for the institution. The main house still provides seven individual flats and, as befits its trade connection, has a splendid library. This is presided over by a bust of the original patron, John Dickinson which was sculpted by the noted Italian sculptor Carlo Marchetti. In 1979 the original Booksellers Retreat was renamed Dickinson House.
from A Hertfordshire Valley, by Scott Hastie
[Note the early railway train crossing the bridge. The line runs from London Euston to Birmingham and was opened in 1837.]
The occupiers of the Book Sellers Retreat, Abbots Langley, Herts in the 1881 census
| | | | | | |
| --- | --- | --- | --- | --- | --- |
| Asenath LEWIS | 75 | unmarried | Railway Shares | St Lukes Middleses | & sister |
| Mary MILLER | 67 | Widow | Booksellers Widow (blind) | London | & 2 daughters |
| Lucy GILBERT | 84 | Widow | Booksellers Widow | London | & servant & visitor |
| Robert B. BLACKADER | 68 | married | Decayed Publisher | Scotland | & wife |
| Edward TUCKER | 67 | married | Annuitant Formerly Publisher | St Johns Westminster | & wife |
| Jeremiah HOW | 85 | widower | Retired Bookseller | St John Clerkenwell | & daughter |
Tom Humphries (tom_and_marie @t blueyonder.co.uk) from Carshalton writes: I have come across 2 white plates made by Copeland and both have in black a belt and buckle type of motive with the words BOOKSELLERS / PROVIDENT / RETREAT and Presented by Tho Brown Esq 1863. If possible what can you tell me about the retreat and anything about Thomas Brown Esquire. Also does the retreat still exist.
The Retreat is still there, as a Grade II listed building continuing to serve its original function. Further information is given on the web site of the Book Trade Benevolent Society, the charity which still runs the Retreat.
The web site London Ancestor quotes the book The Charities of London, by Samuel Low, Jun.
The Booksellers Provident Retreat,
Abbott's Langley, Herts, established 1843, is an asylum connected with the Booksellers' Provident Institution, for aged booksellers and booksellers' assistants, and their widows, who are in receipt of annuities from the Booksellers' Provident Institution. Income under £100 per annum.
Treasurer, Thomas Brown, Esq., 39, Paternoster Row.—Hon. Secretary, William Meyrick, Esq., 4, Storey's Gate.
Page restructured January 2009