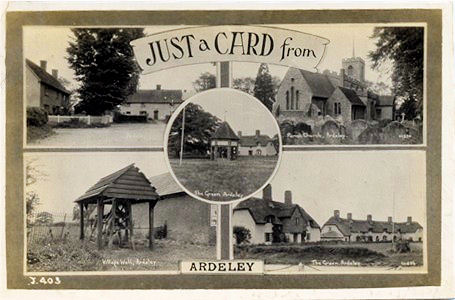 Multiview Card showing the Church, Village Well and Village Green, Ardeley
Posted 1925 - No publisher - Number J403
According to The Place-names of Hertfordshire early recorded spellings are Ardele, Ardeleia, Ardesleg, Ardleg, Eardeleage, Erdelegh, Erdelei, Erdeley, Erdeleye, Herdelee, Jerdele, Yardeley, Yardley, Yareley, Yerdele, Yerdley, Yurdelegh.
Ardeley (7 miles w.) includes Wood End, Moor Green and Cromer with its partly restored postmill. Ardeley Bury, home of the Chauncy family, still retains its moat. Ardeley village is picturesque with its neat thatched cottages beside the green. The vicarage was built 300 years ago. The church dates from the 13th century and has original 15th century timbering to the roof. The handsome oak screen is modern and the rood-loft stairway has been reconstructed, copied from one remaining step. The crudely-cut font may be even more ancient than the church
Braughing Rural District Official Guide 1971
Book: The Parish of Ardeley. A Short History compiled by R. E. Harbord, Spring Grange Private Press. 1952. First Edition. Limited Edition of 160 copies of 50 pages with 3 photographs and some illustrations. [not seen]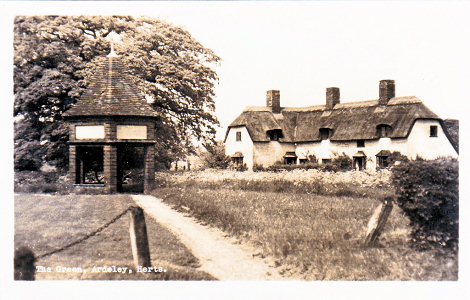 The Green. Ardeley
Unposted - No publisher
Book: Ardeley St Lawrence Primary School
There is a short history of Church Farm, Ardeley, online.