GREAT and LITTLE MUNDEN are agricultural parishes in Broadwater Hundred and Ware Union, about 6 miles north of Ware. There is a National School in each. The benefices are rectories: Great Munden, valued P.R. 1834 at £785 per annum, in the patronage of the Crown; the present incumbent is the Rev. Henry Dawson, M.A. Little Munden, valued at £523 per annum, in the patronage of Charles Jollands, Esq., and the incumbancy of the Rev. Charles Jollands, M.A. Charities, £15 per annum to the poor.
| | | | |
| --- | --- | --- | --- |
| | Acres | Population | Assessment |
| Great Munden | 3,286 | 477 | £3,211 |
| Little Munden | 2,225 | 612 | £3,922 |
The hamlets are DANE END, or MUNDEN FREWELL, near Little Munden, with a population of 175; HAULTWICK, or ARTIC, between Great and Little Munden, with a population of 202; NASTY, or MUNDEN FURNIVAL, with a population of 137; and GREEN END, population 113. BROCKHOLTS is to the east.
Post Office Directory for Herts, 1851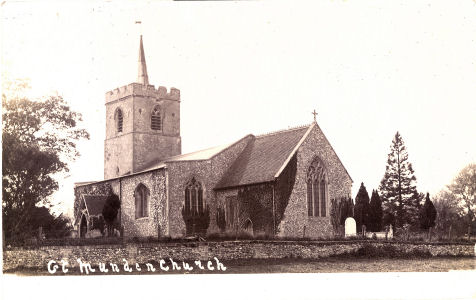 Great Munden Church
Writing shortly before the Second World War Arthur Mee described the village "It is little more than a farm, a duck pond, a cottage and a church. The cottage is a frail-looking wooden one, yet it has lasted 300 years, as long as High Trees Farm, which has 17th century stacks and a heavy screen carved in Cromwell's day." He then goes on to describe the church.