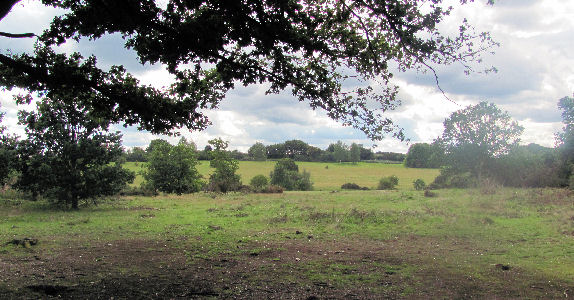 No-Mans-Land Common in 2010
Early History
Nomansland Common is now divided between the parishes of Wheathampstead and Sandridge. It was, at one time, as its name implies, extra-parochial, and was the source of frequent disputes between the monastery of St. Albans and that of Westminster, both claiming it to be within their respective parishes and manors of Sandridge and Wheathampstead. In 1427 the abbot of Westminster erected a gallows here, which the servants of St. Albans Abbey promptly destroyed. On another occasion the body of a shepherd, who had died on the common, was claimed for burial by the incumbents of both parishes, and in his haste to assert his right to bury the body, the rector of Wheathampstead neglected to let the coroner view it." In 1429 an arrangement was come to by which both abbeys should have grazing rights over the common. In the early part of the nineteenth century horse-races were yearly run here.
Military Activities on Nomansland
See Second Battle of St Albans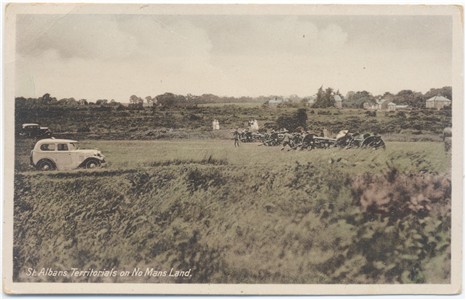 Postcard, with detail below, of the St Albans Territorial Royal Field Artillery training on Nomansland.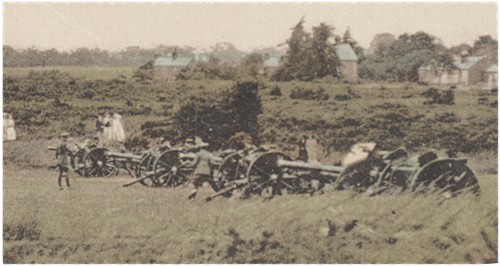 See The Hertfordshire Volunteer Regiment ... 1914-1921 for an account of Volunteer Training Corp exercises in 1915.
Sporting Activities on Nomansland
Prize Fighting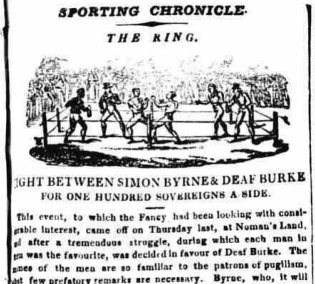 "Bare knuckle fighting continued long after it was made illegal. Simon Bryne died after a bloody encounter at Nomansland, near Wheathampstead, on 30th May 1833. scene of early cricket matches and a favourite theatre for such exhibitions'. His opponents, the seconds, and the referee were all convicted of manslaughter, and the local magistrates were censured for not stepping in to prevent the fight. The victim was buried by the great West Door of St Albans Abbey." A brief account was published in The Hobart Town Courier!.
John Warren has written pointing out that there were other fights on Nomansland described in the books Fights for the Championship by Vincent Dowling and Pugilistica by Henry Downes Miles. Fights were also covered in the newspaper Bells Life in London & Sporting Chronicle and it contains a very long, round by round account of the Nomansland fight between between Simon Bryne and James Burke. I include a short extract:
In the five following rounds, both fought in a wild and scrambling manner, equally exhausting to each; and in the 49th round Burke, who had summoned all his remaining vigour to his aid, rattled away with such fury, that Simon at last went down weaal. Here was another change - and Burke again became the favourite. From henceforth to the 99th round, repeated changes took place ...
Horse racing.
Thomas Coleman (1796-1877) was a noted trainer and licensee of the Turf Hotel, St Albans. He introduced the concept of steeplechasing into England as a spectator sport, the first St Albans Steeplechase being held in 1830. Thomas Coleman also organised the St Albans flat races on Nomansland, for 8 years from 1829.
Cricket
"First mention of cricket at Nomansland came in John Carrington's Diary of 1806 when he records a game against Tewin; there is little doubt that there was cricket on the common long before that. ..." [and has continued ever since.]
"Nomansland, the common between Sandridge and Wheathampstead, was used for County matches from 1818. In June of that year, Hertfordshire won a closely fought three-day game there against Hatfield ..."
Cricket in Hertfordshire
Crime
See Wicked Lady
Political Activities on Nomansland
In 1872 there was considerable political unrest among agricultural workers throughout the country, lead by Joseph Arch, president of the National Agricultural Labourers' Union. This led to a strike at Sandridge - See The Agricultural Workers Strike, Sandridge 1873
Within days [of the formation of the National Union] the South Beds and Herts Agricultural Labourers Union had been formed at Luton, and handbills appeared in the St Albans area. These were headed "Unity is Strength", and invited agricultural labourers "who want a fair day's pay for a fair day's work" to attend a meeting on No-Mans-Land Common, Sandridge, on the evening of 6th June. A crowd of some 500 farm labourers, their wives, some buxom country lasses and some children, turned up. The chair of the meeting was taken by William Paul, a carpenter from Sandridge. The speakers included Mr. G. Butcher, who had been at the Leamington, and the Rev. O. W. Davys, rector of Wheathampstead. The latter spoke in favour of farm labourers getting more money, so that they could spend more in the shops of the butcher and baker, but he antagonised the audience by saying that he was convinced that nine-tenths of the misery, and wretchedness, and poverty of the labouring classes arose from the fact that they did not take sufficient care of their money, but gave a large portion of it to the publicans. A number of the labourers spoke of the difficulties they faced. For instance William Payne said that although he had a wife and family of seven children he was only receiving twelve shillings a week. Of this 9s 9d went for bread, 2s for rent, and 2s for firing. This was not a half-penny for each of them for the three meals a day, and it was impossible for him to pay his way as he went.

Herts Advertiser, 8th June 1872
A few years after the strike had collapsed:
However in 1876 Joseph Arch, president of the National Agricultural Labourers' Union again visited the area. On 24th October he attended a tea and public meeting in a meadow near the Fiddle Public House, Hatfield. The following day there was an even bigger attendance at the meeting he addressed at the rear of the Park Hotel, No-Mans-Land. At this meeting the local union branch presented William Paul [of Sandridge] with a purse containing £6 12s "for the untiring and energetic services you have rendered during the last four years or more in the cause of the down-trodden sons of toil. And although we have been greatly benefited by your labours and the labours of other friends, we are not in a position to make you such an acknowledgement as we desire for the great loss you have sustained, and for the insults and abuse which you have had to bear on our behalf."

Herts Advertiser, 28th October 1876
The People of Nomansland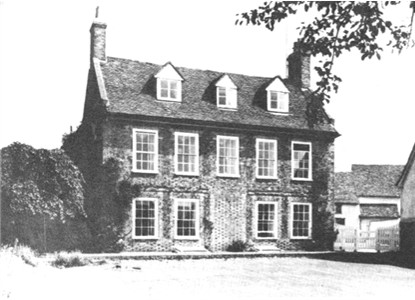 Nomansland Farm , where Ralph Thrale, father and son, lived for many generations
See A New Thraliana
No MAN'S LAND, an extensive tract of waste land, is situate one mile and a half distant [from Wheathampstead]. W. Chambers, Esq., in his interesting little book called A Week at Welwyn, gives a description of a pleasant visit that he paid to No Man's Land, and a museum of natural history there. This museum has been made solely by a family named Thrale, who for centuries have held a farm in this district, and the only survivor of whom is one of two bachelor brothers, who was, at the time of Mr. Chambers's visit, nearly eighty. The collection consists, in the first place of animals and birds killed on the farm, and stuffed by the brothers Mr. Chambers says, "Every sort of indigenous vermin from the field-mouse up to the big dog-fox; and, at the head of foreign wild beasts ending their days on the farm, a Bengal tiger; this tiger, having escaped from the Zoological Gardens was killed two days after on the farm of the Thrales who stuffed it, and added it to their collection. The second part of this museum consists of collected specimens of every kind of flower, grass, etc., that the farm grows. Besides this there are pieces of armour, cannon-balls, etc., dug up from the land [see Second battle of St Albans], and various curiosities from other parts of the world.
Young Crawley's Guide to Hertfordshire, 1880
If you know of other books, websites, etc, relating to this place, please tell me.