| | | | | |
| --- | --- | --- | --- | --- |
| | | Romeland & Fishpool Street | | |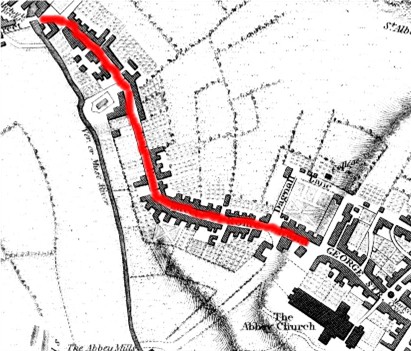 Pass down George Street and enter Romelands, with the old Abbey Gateway on your left.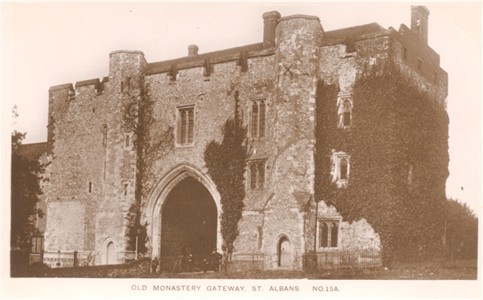 The Abbey Gateway
The gateway was used as part of the school and the card has the message "This is where my two boys go to school. Boyke(?) will tell you all about it" In previous centuries the building was used as a prison - see Early Crime and Punishment

Pass through the gateway to enter the Abbey.

The Grammar School - with the Abbey gateway to the East.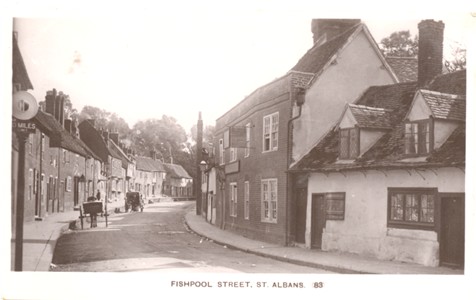 Fishpool Street - The pub on the right is the Blue Anchor
These two cards are both from Photochrom. The photograph is a "Letter Card St Albans Series A" and dates from the 1930's from the age of the car. The other is a "Pencilette Drawing" by Edward Swann which is clearly redrawn from the photograph, and was posted in 1943.

St Albans, Fishpool Street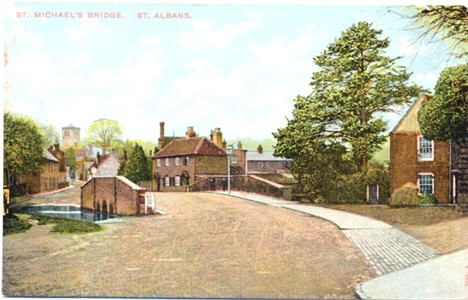 Bridge over the Ver, St Michaels
Kingsbury Water Mill, St Michaels.
The ground floor of the mill is now now part of the Waffle House Museum- and the large lump of Hertfordshire Pudding Stone in front of the Mill is still there. Further information on the mill can be found on Wikipedia
Continue the walk along the River Ver or pass the water mill and enter St Michael's Village
Hold mouse over the picture for publication details of postcards.
| | | |
| --- | --- | --- |
| | | |
| September 2010 | | Pencilette Drawing card added - with comments |