A Blackpool based Publisher of the Syllikuss series of cards in 1909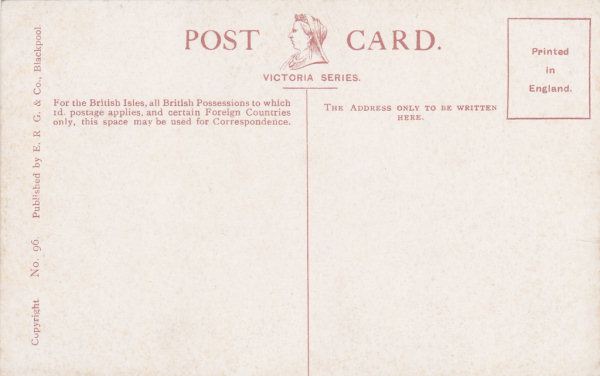 Edward Rhodes Green & Co was a stationer, draper and outfitter at 10 Victoria Street, Blackpool who sold post cards from 1904 with the initials "E R G & Co." in the "Victoria Series." The great majority of the cards he sold were views of the Blackpool area but the "Victoria Series" also included a number of comic cards, mainly unsigned, and apparently by different artists
The publisher is of interest because in published a number of cards signed by "Syllikuss" appeared in the "Victoria Series" in the summer of 1909.
See

for all known Syllikuss post cards

(which have the above back)
Some other E. R. Green comic cards in the numbered Victoria Series
In most cases the artist is not known.
4 Just a line from Blackpool

20 August 1909

6 What Ho, She Bumps

8 Hard on the boatman

24 December 1909

33 Everything going out, Nothing

coming in

43 It's the tailor makes the man

53 Pa getting fresh air at Blackpool

---

39 Dark Room

The " Sally and Sammy" cards by Ted Ashton

copyright 26 September 1908

[The cards in this series had the same back as the Syllikuss cards]

57 Courtin' Neet - two pair of squeezers

61 The Sculpture Gallery

65 His mother's way

---

69

Puzzle:

Find the calves

28 August 1913

The recorded Syllikuss Cards are in the range 78-109

257? We are having a gradely good time here

1 June 1909
302

By Jove, Blackpool's simply ripping, I've brought the place

338

Rag time is all the rage at Blackpool

1913

359

You've won a medal like this here for your great success in shifting beer
The "Victoria Series" mainly consisted of view cards such as these, which in general do not have the Delittle, Fenwick & co back.
37 Flying Machine, Blackpool

18 August 1907

41 Roof Gardens, Tower, Blackpool

77 Blackpool from the Cliffs

83 Having a trip round

215 On Blackpool Sands

Catholic Church, Talbot Road, Blackpool

[This card has the 1d postage applies wording on back but was printed in Germany.]
View cards with the Delittle, Fenwick & co wording.
Catholic Church, Talbot Road, Blackpool

[This card has the 1d postage applies wording on back but was printed in Germany.]

Hotel Metropole & Promenade

Victoria Series 103 - Posted