Ernest Joshua Hey entered the postcard market as Hey & Co, of 57-59 Ludgate Hill, London, E.D. in partnership with HermanMarx, in about 1908. In 1914 the partnership was dissolved and the the company continued as E J Hey & Co, London E. C. It became a limited company in 1917, and disappeared in about 1921. He published a number of signed Fred Spurgin cards the best known showing Dutch children, which also appear, with the same numbers as the 1913 "Dutch Kids" series of Inter-Art, so it may be that Hey was simply republishing the Inter-Art cards.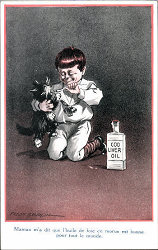 Maman m'a dit que l'huile de foie ce morue est bonne pour tout le monde
[This card is probably one of the Inter-Art "English Kids" series]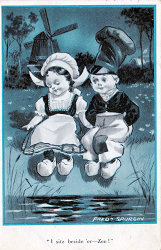 "I sitz bezide 'er - Zee!"
E J Hey & Co. London E.C.
No 319
Printed in England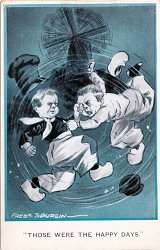 Those were the happy days
E J Hey & Co
London E.C.
No 320
Printed in England