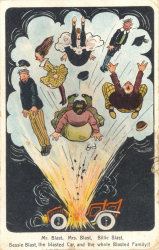 Mr Blast, Mrs Blast, Billie Blast, Bessie Blast, the blasted car, and the whole blasted family.
The London View Co
Early Saxony (green printing)
This space may be used for Inland communication
14 March 1906
The card illustrated had the company name on the back - left hand margin. The stamp box is obscured by the stamp

Other versions are known. One unposted version has had "LVS series" in the left hand margin and "Printed in Prussia" in the stamp box. Rest of the back identical. ;

An uncoloured version has an type back (except hyphen added Communication-Inland) snf was posted in October 1905

The other coloured version, posted in February 1907, has the left margin reading "The London View Co Ldt" [sic] and the words "This side may be used for inland communication" and "The address only to be written here."