Daniel Simmons (daniel @t beyondeureka.com) of London writes I was a pupil of St Albans in the 80's school and I am looking for a quality print of the St Albans Abbey Gateway, ideally like the one google directed me to on your website. Can you tell me where I could locate such a print.
I cannot advise on any modern prints that might exist - but I can comment on a number of old, out of copyright images that I know of, and in most cases can provide high resolution digital scans so you can print off your own. I am sure that HALS can alert you to other old prints,
My view is that the old abbey gateway was not a popular subject for 19th century engravings - possibly because it was then a prison and there were many more interesting subjects such as the Abbey, the Clock Tower, the Market Place, Gorhambury, Sopwell Nunnery and the ruined Roman Walls.
The earliest engraving I know of comes from Hassel's Picturesque Rides and Walks - which was published in 1817-18 and contains a number of small prints of places around London. The print of the gateway is named "The Gate of Old Verulam, Herts" but it clearly shows the Abbey gateway. The copies of prints I have seen from this book are all well coloured considering their small size.
Most of the later prints I have seen are vignettes embedded in the text of the book. The largest dates from the book The St Albans Church of St Albans, by J. W. Comyns Carr, which provides a detailed description of the Abbey in 1877, before the major Victorian restorations.
The pocket-sized guidebook The City of St Albans by Charles Ashdown, was first published in 1902 and contains two vignettes relating to the gateway by Duncan Moul. The one of the fireplace also appear in Picturesque Hertfordshire in 1904. It should be noted that around 1900 the Hertfordshire Advertiser occasionally published drawing of local buildings of historic interest - and it may be that these included one of the Abbey Gateway but I have no easy way of checking - and copies from microfilm are not very good.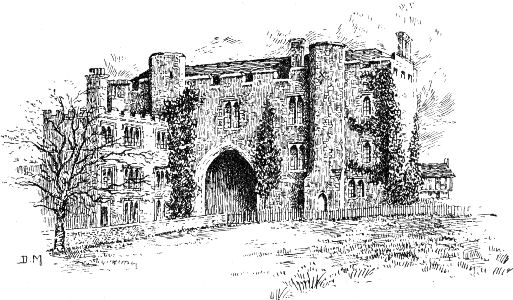 The Gateway circa 1902 from Ashdown
The Old Fireplace in the Gateway from Picturesque Hertfordshire

Once we enter the 20th century the number of books containing images significantly increases - with photographs often being used rather than drawings - but one of the earlier books, Alderman's A Pilgrimage in Hertfordshire contains a somewhat different view.

The Gateway circa 1930 by Alderman
| | | |
| --- | --- | --- |
| A brief note is appropriate on post cards, which started to appear at the beginning of the 20th century - with many different publishers producing cards of the Abbey Gateway. This card is by Valentine and while it was published in about 1903 (as judged by the address side) the number 5856 shows that negative was made in 1886 - and the company was selling photographic prints before post cards were invented. In the following years Valentine reissued it in other formats, including colour, for several years after the building on the left was demolished. | | |