The St Albans Times and Herts Advertiser
1855-1865
continued as
The Herts Advertiser and St Albans Times
1866-1960
continued as
The Herts Advertiser
1960-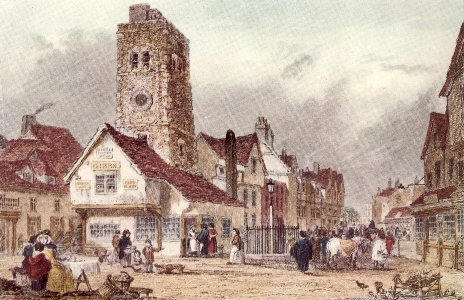 This print, from 1826, shows the shop in front of the Clock Tower which was rented by John Gibbs and his brother George Washington Gibbs in 1824. The business moved to another site, run by another brother, Robert Gibbs, who launched the St Albans Times in 1855. The company later expanded to become Home Counties Newspapers Ltd of Luton.

[Family Group, 1952]

The St Albans Times was launched in 1855 shortly after the newspaper stamp duty was dropped. It is an excellent source of St Albans and district news, and has some coverage of the rest of Hertfordshire. It is available on microfilm in the St Albans Central Library. In the late 1990s I built up a large collection of photocopies of news items, as part of my studies into Bernards Heath, mainly between 1860 and about 1900, and have a large but incomplete index of the cuttings. As a result a significant number of the Old News stories come from this paper.
There is an almost complete set of microfilms of the newspaper at the St Albans Central Library, but because of the limited number of viewers it is advisable to book in advance if you a making a special journey to St Albans to view the films.
---
A number of books of historical interest were published either by R. Gibbs, of the Herts Advertiser, or later by the company Gibbs & Bamforth, which grew to become Home Counties Newspapers Ltd. The following have review pages on this site:
The Company has also published or printed a wide range of books and magazines such as:
| | | |
| --- | --- | --- |
| 1913 | 1940s | 1941 |
| 1957 | 1959 | 1964 |
Home Counties Newspapers Ltd
The company was taken over in 1998 - and information on its current activities can be found by looking on google for "Home Counties Newspapers".
If you can add to the information given above tell me.
December 2009 - Rambles around Luton picture