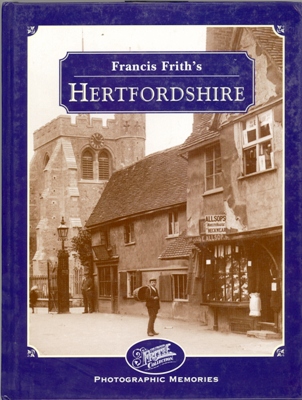 Books on Hertfordshire
Francis Frith's Hertfordshire
Frith Book Company Ltd
Published 2000
ISBN 1-85937-247-3 (paperback)
ISBN 1-85937-079-9 (hardback)
Francis Frith set out in 1860 to photograph every city, town and village in the Country, and the result is a major photographic archive of views. This book includes some 150 quality photographs of Hertfordshire taken between 1897 and 1965, together with an introduction about Francis Frith and a brief introduction to Hertfordshire. Each picture has a brief text and as such it compares well with other photographic collections of the county.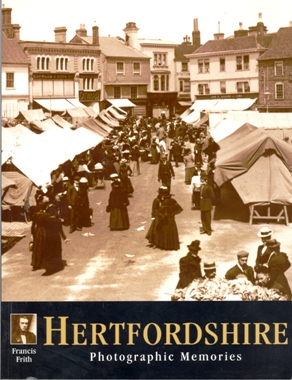 However there is a bonus. Normally one can buy prints of Frith photographs 14 inches by 11 inches (mount size) for £15.00 but the book includes an order form allowing you to order one such print free (p&p £1.50) plus up to 5 other prints at £7.49. This means that if you want a mounted picture of, for example, Tring High Street in 1897 or St Peter's Street, St Albans in 1921, you effectively get it for free with the book. (There is no mention of what happens with orders from overseas...)
The only problem I could see were two very bad editing errors. The chapter headed "The South East" contains pictures from South West Hertfordshire, while the chapter headed "The West" deals with the East of the County.

Thanks to Graham, who pointed out that the picture of "The Old Manor House, Rickmansworth," which I had used as an illustration, was of Chenies Manor - and not in Hertfordshire at all.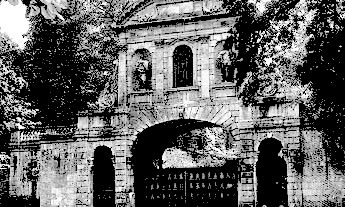 Cheshunt: Temple Bar, circa 1960
Temple Bar was designed by Sir Christopher Wren in 1672 to replace the earlier City of London gate destroyed by the Great Fire, and was one of the last of the old city gates to survive. But because of the enormous growth in London traffic during the Victorian era, it was demolished in 1878, and acquired by Sir Henry Meux as the entrance to the family estate at Theobald's Park. In recent years the statues have been removed and the structure boarded up to prevent further dilapidation.

[See Theobalds Park]
See also Francis Frith Collection
See also Francis Frith's Hertfordshire Postcards
Locating Books
Frith's catalogue of books and photographs is at www.frith.com and in print books can be ordered online Second hand copies of these books are often available online.
Page updated January 2008