FIERCE FIRE IN ST. PAULíS CHURCHYARD. EXCITING SCENES AND GALLANT RESCUES.
Remarkable and exciting scenes were witnessed at a fire on Wednesday afternoon under the shadow of St. Paul's Cathedral.
The outbreak occurred shortly after noon on some premises in St Paulís Churchyard, adjoining Cannon Alley.
The ground floor is occupied a firm of bootmakers, the second floor by an agent for Scotch clothes and woollens, the third floor by Messrs. Mitchell and Watkins, wholesale stationers, and the fourth floor by Mr. Ellis, photographer. On the top floor resides the caretaker of the building, an aged woman, who lives with her daughter The fire broke out the second floor, and is supposed to have originated from a naked gas light on the staircase.
The building which is somewhat old, and constructed largely of woodwork, was soon alight, and so rapid indeed was the progress of the fire, that all escape to the street was cut oft before the tenants of the upper part of the building became aware of their danger.
A strong smell of burning appears to have given the first alarm to Messrs. Mitchell and Watkins.
Stepping out on the staircase, the latter saw dense wreathe of smoke rolling up the stairs. Immediately a great tongue of flame shot up the stairway, and barred all escape. Mr. Watkins and his partner gave the alarm from the window, and were working desperately saving their books when they shrieks from the floor above.
Mr. Watkins recollected that a young lady was at work in the photographic studio above, and immediately attempted to rescue the girl, but in vain.
From the offices of the Sunday School Union, which form part of the building adjoining, the opposite corner of Cannon Alley, a fire ladder was stretched into the office of Messrs. Mitchell and Watkins, and across this the two men crawled and escaped in a half-suffocated condition. ...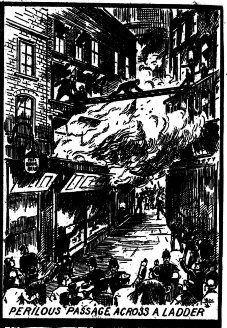 The Illustrated Police News
7 October 1905
Several other details reports on the British Newspaper Archive.
63 St Paul's Churchyard was on the corner of Cannon Lane, leading to Paternoster Row.
In the Matter of a DEED of ASSIGNMENT for the benefit of creditors, dated the 10th day of April, 1908. executed by HORACE MITCHELL, trading as Mitchell and Watkins, at 63, St Paul's-churchyard, and 59, Paternoster-row, both in the City of London, Picture Post Card Publisher. - Notice is Hereby Given, that all persons having any claim against the estate of the above-named Horace Mitchell are requested to send in particulars thereof in writing to me on or before the 18th day of July, 1909, after which date I shall distribute the assets of the estate, having regard only to those claims of which I shall have had notice.
Dated this 30th day of June, 1909.
G. MONTAGUE WHITE, Chartered Accountant, 14 Old Jewry-chambers, E.C. Trustee under the said Deed of Assignment.
Daily Telegraph & Courier (London), 6th July 1909