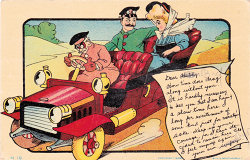 Dear Hubby (N19) [Unsigned]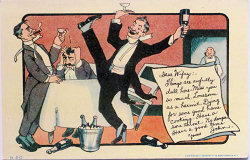 Dear Wifey (N20) [Unsigned]
While there is no claim that this picture format was invented by "F S" a ebay scan was made of some 1800 comic cards posted in the UK in the 1906-8 period. Nine cards which used an overflowing box were noted - but all but one, illustrated here and posted in 1908, was from one of the above sets by "F S."
Early in 1908 A Q Southwick published a pair of sets, Dear Hubby and Dear Wifey. These are unsigned - and as the company had just published four sets by "F S" it is obvious that "F S" could be considered to be a possible artist.
On general style grounds, coupled with the use of the picture overflowing the frame technique, I consider it is probable that "F S" (i.e. Fred Spurgin) was the artist.