Maureen Davis (maureenfry @t aol.com) of East Barnet, Herts, wrote: Could you tell me, please, if there are any images of 'Camfield Place', and/or 'Bedwell Manor', Essendon, that I could acquire, because I have traced "Prestley" in my family from Essendon and Little Berkhampstead and I would like to view the houses that the Prestley's owned back in the 17th and 18th Centuries.
I have checked the main County Histories (Chauncy, Clutterbuck, Cussans and the Victoria County History) and there is a lot of information including a pedigree of the Prestley family (Clutterbuck) and memorial inscriptions (Cussans). A quick interpretation suggests that William Prestley (from London) acquired Camfield Place, Essendon in 1618, and also part of the Manor of Bedwell, Essendon, referred to as "Bedwell Lowthers". but he did not acquire the Manor of Bedwell itself.
William Prestley died 1663-4 and was succeeded by his son Thomas who died in 1720. He was succeeded by another William who died in 1744 and Camfield Place passed by marriage to a Thomas Methwold who sold it in 1760.
Camfield Place at Wildhill in the Parish of Essenden
From Chauncy, 1700 (1826 reprint)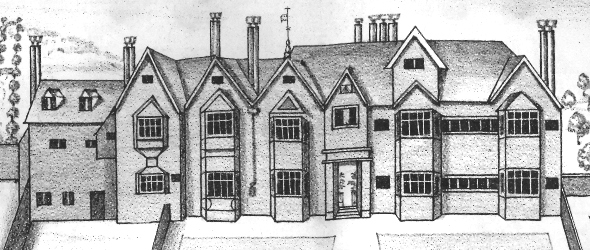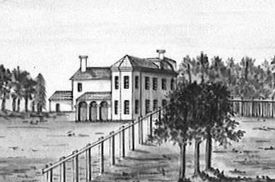 Pevsner's Buildings of Hertfordshire records that the present Camfield Place is an 19th century Italianate building and a search on google reveals a 19th century picture in the National Maritime Museum collection (see detail) - suggesting that the house had been rebuilt or significantly changed after the Prestleys left it. (Alternately it may be a different house which has been incorrectly identified.)
--------
In the south-west of the parish is Camfield Place,which took its name from a family of Camvile or Canvile, who were holding lands in Essendon from the 13th to the 15th century. In 1601 the estate was sold by Sir Edward Denny to William Brockett, who in 1611 died seised of a messuage, mansion-house and farm called Camfield which he held by knight service of the a king in chief 'by gift and grant of Edward now Lord Denny and Lady Mary his wife.' In 1618 William Brockett, his son, sold Camfield to William Priest1ey, who died seised of it in 1622, and whose son William acquired the manor of Bedwell Lowthes in 1627. Camfield Place was then held with Bedwell Lowthes, and was the seat of the Browne family, and was bought in 1832 by Thomas Robert fourth Baron Dimsdale. It is at present the property and residence of Mr. F. V. McConnell. [Victoria County History]
Camfield Place, Essendon
posted 1916

Mrs McConnell, Camfield Place - James Porter Reid was gardener to Mrs McConnell - David Thomas Binstead was farm bailiff to Mrs McConnell at Camfield Farm.. Kelly's 1914 [under Hatfield]

Camfield, situated in about 400 acres, and 1 mile south west [of Essendon] is the property of Mrs McConnell and the residence of Arthur Wall esq. Kelly's 1922 [under Essendon]
The google search also revealed that Barbara Cartland, the 20th century romantic novelist, lived at Camfield Place. She died in 2000, aged 98, and is buried in the grounds. The following information and picture comes from an online obituary of Barbara Cartland.
Barbara Cartland lived at Camfield Place, Hatfield, Hertfordshire. The family still own the Estate which was originally settled on by a Knight in 1275. It once featured a Tudor Manor House which was pulled down by Beatrix Potter's Grandfather who rebuilt the house in 1867. Beatrix Potter wrote that Camfield was the place that she loved best and where she wrote "The Tale of Peter Rabbit". The estate features an Oak Tree, planted by H.M. Queen Elizabeth in 1550 whilst she was imprisoned at Hatfield.
| | | |
| --- | --- | --- |
| The "Deer Oak", which is said to have been planted by Queen Elizabeth the First in 1550, at the spot where she killed her first deer, is on the estate. The Special Trees and Wood of the Chilterns web site has a page on the tree, with a picture taken about 1950. Does anyone know of any earlier pictures? | | |
If you can add to the information given above tell me.
Page updated October 2007