Much Hadham
Adjacent Parishes: Little Hadham, Sawbridgeworth, Standon, Thorley, Thundridge, Ware, Widford
It is in the Hundred of Edwinstree and the Bishop Stortford Union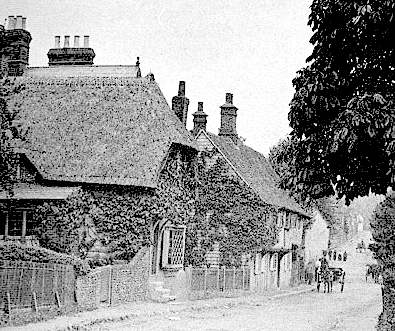 Much Hadham Village Street
Detail from David Mander's Images of Hertfordshire
MUCH HADHAM. Just where the River Ash bends round Bush Hill is a farmhouse of such dignity that we should guess it had a history; and so it has. It is the Palace, the country home of the Bishops of London for 800 years, and here began our Tudor dynasty, for Henry the Fifth's widow (Shakespeare's Katharine) gave birth in this farmhouse to Edmund Tudor, whose son Harry won the throne on Bosworth Field. The building has changed since then. Today it is mainly 16th century, with an outer casing of 17th century brick and later wings. A floor cuts in half the fine old hall with its gabled windows and mighty oak girders, but there is an elegant staircase, and 17th century panelling.
[Following a description of the church it describes the following memorials]
A wife of one of the bishops, Judith Aylmer of 161S, is here in stone, but without her head. Among the portraits in brass are a serjeant-at-law who died about 1420, an Elizabethan mercer called Clement Newce with his wife and 17 children, and William Newce (who died in 1612) with his two wives and 13 children. One brass tells us of Simon Flambard who heard the news of Bannockburn when he was parson here, and another asks us in French to pray for the soul of a later 14th century parson. A more famous rector was Alexander Nowell, the Dean of St Pauls who wrote the Catechism. Elizabeth thought highly of his learning, but that did not prevent her rating him soundly for presenting to her a prayer book with pictures of saints and martyrs, and once when he was preaching she called out "To your text, Mr Dean. Leave that; we have heard enough of that," so disconcerting the poor man that he was unable to finish his sermon. ...
Arthur Mee Hertfordshire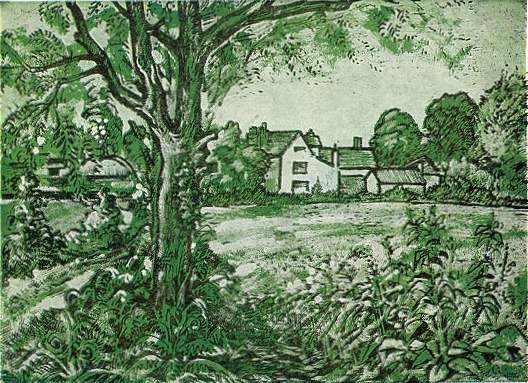 Moat Farm, Kettle Green, Much Hadham
from Afoot in Hertfordshire by Frank Dawes Illustrated by Leonard Wyatt
Much Hadham
(5 miles s.) is one of the largest parishes of this Rural District, comprising 4,490 acres of most pretty scenery. It is watered by the Ash and includes Hadham Cross, South End, Green Tye, Perry Green (with a chapel-of-ease), Exnalls and Kettle Green, Moor Place is an 18th century mansion in a fine park. The manor of Hadham was given to the Bishops of London by King Edgar and their former summer palace here is over 600 years old. In it Katherine, widow of Henry V, gave birth to Edward Tudor, fore-runner of the Tudor dynasty.
Much Hadham rectory is a mellowed Jacobean residence and this village retains many picturesque old houses. The parish church dates from the 14th century but has been considerably restored. The massive, embattled western tower was built 550 years ago and the very fine south porch about half-a-century earlier. The medieval oak chancel screen, nave roof, brasses and ancient glass in the east window should be noticed.
Braughing Rural District Official Guide 1971
GREAT (or Much) HADHAM is an ancient town with a station on the Buntingford branch railway, In Edwinstree hundred, Bishop's Stortford union and county court district, rural deanery of Bishop's Stortford, and deaconry and diocese of St Albans, 5 miles west of Bishop's Stortford, 9 north-east of Hertford and 25 from London; it is lighted by gas.
The church of St Andrew is a building, apparently of the early part of the 14th century and consists of chancel, nave with five bays, aisles, a magnificent south porch and a tower with spire containing 6 bells, dating from 1595-1750; the south porch and tower were probably built about 1400 by Robert de Braybroke, bishop of London; in the chancel separated from the nave by a screen are two picinae; the oldest memorial in the church is a slab to Simon Flambard, rector in 1331; there are several later brasses 1569-1631; the stained east window representing the life of St Andrew was placed by the family of the Rev. Thomas Randolph, rector here for 63 years, as a memorial to him; there is a pretty avenue of lime trees leading to the church. The register dates from the year 1559. The living is a rectory, net yearly value £1,280 including 163 acres of glebe, in the gift of the Bishop of London and held by the Rev. Edwin Hamilton Gifford, D.D. formerly fellow of St John's College, Cambridge, hon. canon of St Albans and examining chaplain to the Bishop of London.
A chapel of ease was erected at PERRY GREEN in 1853, at the suggestion of Richard Hunt, of Stanstead, esq. who was the principal subscriber to the building fund.
A highway board was held here.
Charities, producing £50 1s 8d, yearly, derived from various bequests, left by Mary Hales. widow of this parish, in 1720; by John Some i n 1772 are variously distributed, the rector receiving £33 12s. per annum; eight almshouses, the gift of an unknown donor and rebuilt in 1866, are inhabited by as many poor widows, each of whom receives bread every fourth Sunday, from a bequest by William Piggott in 1680.
The site of the ancient palace, formerly belonging to the Bishops of London, is now occupied as a private lunatic Asylum.
The Ecclesiastical Commissioners are lords of the manor of Great Hadham; the rector is lord of the manor of the rectory of Hadham.
The principal landowners are Mrs Wigram, Richard Hunt, Esq., R Nicholson esq., Hugh Parnell esq. and the Marquis of Salisbury.
The soil is a strong loam and produces excellent crops of wheat, oats, beans and barley; subsoil, various.
The area is 4,457 acres; rateable value, £8,481; the population in 1881 was 1,298.
GREEN TYE, EXNELLS WEST and PERRY GREEN a 2 miles south-east; BROMLEY, a mile and a half north west.
Kelly's Directory for Hertfordshire, 1882
Book: A Short History of Much Hadham
Web: There is a Hadham Community Website which has about a page of local history information the last time I looked at it.
Web: The Forge Museum is at Much Hadham. The Page Family set up as blacksmiths here in 1811 and continued the family business until 1983. The displays tell stories about how the crafts of blacksmithing and farriery have developed over the years, as well as smaller exhibits about village life.
See also Vital Records
If you know of other books, websites, etc, relating to this place, please tell me.