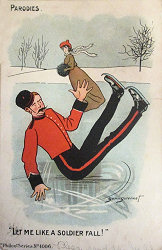 Parodies
"Let me like a soldier fall!"
Signed Gunn Gwennet
Philco Series No 4006
Posted 10 July 1904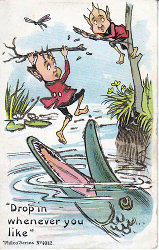 "Drop in whenever you like"
Philco Series No 4012
Posted August 1904
Another in same series "We shall probably go over the Alps before our return"
Gunn Gwenett also did a set of 6 "London Antiquities" with serial number 4002, and there was an unsigned set (of 6?) of elves with a serial number 2008.
Apart from the first few all Philco comic cards appear to be unsigned.