These unsigned cards, published by The Philco Publishing Co., Holborn Place, London, W.C. are approximately contemporary with the above "F S" series. If this set was published immediately after the London View Company Ltd. closed a new version quickly drawn for a new market seems possible.
However it could also be a case of one artist copying another - as is illustrated in "It is vey breezy" where "F S", McGill and Comicus are involved in plagurism.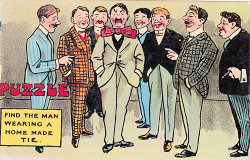 PUZZLE
Find the man wearing a home made tie
Series No 4029
Posted 13 September 1907?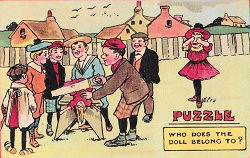 PUZZLE
Who does the doll belong to?
Posted 1908