In any historical research project there are bound to be false leads and during the research I wandered up a number of blind alleys. By documenting such problems it is hoped to help others to see how such false leads occur - and hence to spot when their own research is heading in an unproductive direction.
This company came to my attention because the Corona Publishing Company appeared in London at about the time the Crown Publishing Company closed in St Alban. However it appears to have been connected with the earlier A & E Copopock, of Coronation Street, Blackpool, and many cards were produced in the "Coronation Series. Later "CPC" produced cards some of which were in what they called the "Crown Series".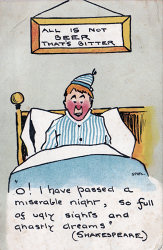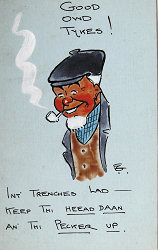 At about the time Karaktus finished publishing some very distinctive cards started to appear signed "Spatz" published by Thomas Hinds, with a crown logo. Further investigation showed that the artist was Fred Gothard (sometimes signing "F G") and he later did work for a number of publishers - particularly during the First World War.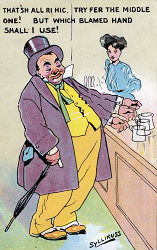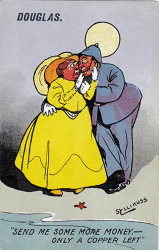 The "Karaktus" cards only appeared for a vey short time and it was decided to see if he continued under another name. One possibility seemed to be the cards by "Syllikuss" which started to appear in summer of 1909. His drawing have the same approach to a simple picture with minimal background, and some show a similar brand of humour. However his "Just a Line" card was effectively a reprinted version of a card published widely several years earlier, and this, plus a detailed look at style differences, seem to rule out any connection with Fred Spurgin. However if "Karaktus" is not Spurgin the possibility of a link of some kind cannot be entirely ruled out.

"Fred Stone" of Brighton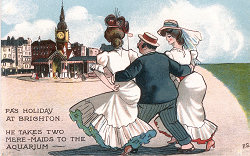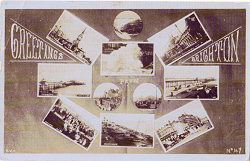 The series "Pa's Holiday at Brighton" by "F S" was based on actual views of Brighton and sold in Brighton by a stationer called Francis Gerald Harwood. At about the time the London View Company failed Harwood established the Brighton View Company. The 1901 census showed a Fred Stone who might have been working for F G Harwood - who could have been "F S." All attempts to prove a link for "Fred Stone" drew a blank.
These distinctive cards are listed as being produced by the London View Co and I wondered if they might be an early experiment by "F S" - especially when I found that H. Vertigen was also involved. However it turns out that one of the cards was signed by "P E" and that many other artists/publishers were producing similar cards. They are still of interest because of the links between Vertigen and the London View Company.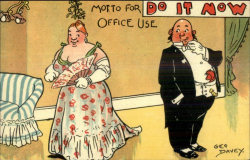 This set of cards was published by the Souvenir Post Cards Co, of New York, at about the time the company was publishing a number of "F S" cards and also at about the time the company linked up with Valentine in the UK. As most of the cards seen are unsigned the set was suspected of being by "F S" - but a few cards are signed "Geo. Davey" - so he was most likely the artist for them all.
The "Selwell" Series
Unsigned cards from these sets were being published by J Asher in the Selwell Series and also appeared in the Popular Series (published unknown) at the same time as known "F S" cards were being published. It was therefore decided to follow these sets to see if there were any clues as to the publisher. I later found some of the cards with a continental back and some signed "Donadini Jr, Dresden." I am now working on the assumption that this artist was responsible for all four sets and "FS" was not involved.
These cards were originally on the "Round Faced Children" page as it was thought that they might be by Fred Spurgin in 1908 - about a year earlier than his earliest known children cards. This date has been revised making them later that the Infantastic cards. As a result I am now certain that they were not by Spurgin.

"It's so Simple"

Philco Series No 4070

November 1909

"We'd better bide awee"

Philco Series No 407?

November 1909

"A'int de wind rude"

Philco Series No 4084

January 1910

"Oo'ed better not tell!"

Philco Series No 4085

22 December 1909
"Girls I Didn't Marry" Set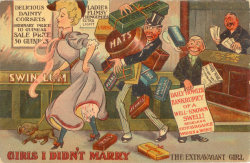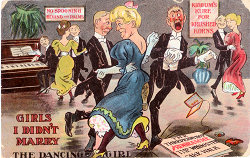 Vertigen clearly published a number of cards signed and unsigned cards by "F S" and also used the same Saxony-based publisher. He also published cards by other artists. Initially I thought that all the cards in the "Girls I Didn't Marry" set were unsigned and might be by "F S" but it is now clear that they were by Ernest Edward Wise (E W).
Probably Not by Fred Sprugin
There are also some areas where I carried out research and where it would now seem that Frederick Spurgin was not involved - but there is not enough evidence to completely rule him out.
"No Wedding Bells for Me" and similar USA sets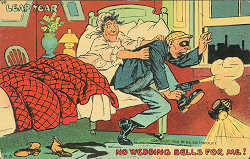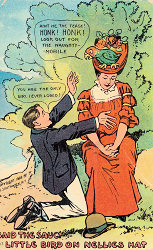 The short lived New York company, A. Q. Southwick, published a number of "F S" cards around the beginning of 1908, referenced N10,N11, N12 and N13. Sets N16 (No Wedding Bells for Me), N17 (Said the Saucy Little Bird on Nellie's Hat) and N18 (Affinity) followed and initially it was considered they might have been specially produced by "F S" for the American market. To date no firm evidence has turned up as to the identity of the artist, but one likely possibility is the American post card artist Rose Hyman.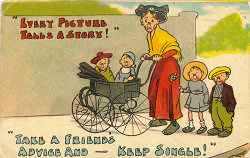 The unsigned picture on the left seems to make links with the "F S" sets "Every Picture tells a story" and "Take a Friend's Advice" so could "F S" have submitted a few post cards to the Hutson Brothers?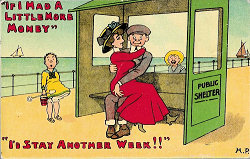 A survey of Hutson Brothers cards with similar numbers (such as the one on the right) shows that nearly all were signed as being by "H P" (Harry Parlett) or by "Comicus" (also Harry Parlett). As there is a "Comicus" copycat post card of the "F S" card "It is very Breezy" the most likely explanation is that the unsigned card is also by Harry Parlett, perhaps influenced by seeing some of the "F S" cards.
In 1907 Henry Garner was selling "F S" comic cards. but from as early as 1906 he was selling "Song Titles Illustrated" in the "Living Picture Series." A number of these cards were signed and dated "F/S 1906" including the one on the right.

There is no strong reason to think the "F/S" is Fred Spurgin. The song illustrated on the right "Love smiles but to deceive" is from the ballad opera "The Bohemian Girl" composed by Michael William Balfe, with a libretto by Alfred Bunn, and first performed at the Drury Lane Theatre in 1843.