In any historical research project there are bound to be false leads and during the research I wandered up a number of blind alleys. By documenting such problems it is hoped to help others to see how such false leads occur - and hence to spot when their own research is heading in an unproductive direction.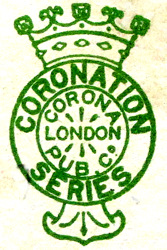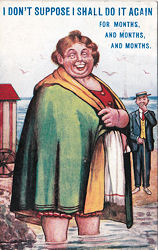 This company came to my attention because the Corona Publishing Company appeared in London at about the time the Crown Publishing Company closed in St Alban. However it appears to have been connected with the earlier A & E Copopock, of Coronation Street, Blackpool, and many cards were produced in the "Coronation Series. Later "CPC" produced cards some of which were in what they called the "Crown Series".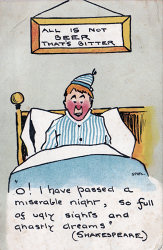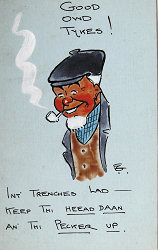 At about the time Karaktus finished publishing some very distinctive cards started to appear signed "Spatz" published by Thomas Hiinds, with a crown logo. Further investigation showed that the artist was Fred Gothard (sometimes signing "F G") and he later did work for a number of publishers - particularly during the First World War.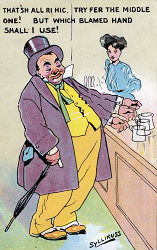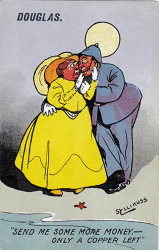 The "Karaktus" cards only appeared for a vey short time and it was decided to see if he continued under another name. One possibility seemed to be the cards by "Syllikuss" which started to appear in summer of 1909. His drawing have the same approach to a simple picture with minimal background, amd some show a similar brand of humour. However his "Just a Line" card was effectively a reprinted version of a card published widely several years earlier, and this, plus a detailed look at style differences, seem to rule out any connection with Fred Spurgin. However if "Karaktus" is not Spurgin the possibility of a link of some kind cannot be entirely ruled out.
"Fred Stone" of Brighton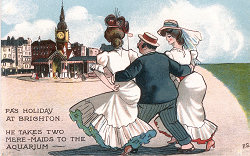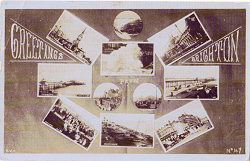 The series "Pa's Holiday at Brighton" by "F S" was based on actual views of Brighton and sold in Brighton by a stationer called Francis Gerald Harwood. At about the time the London View Company failed Harwood established the Brighton View Company. The 1901 census showed a Fred Stone who might have been working for F G Harwood - who might have been "F S." All attempts to prove a link for "Fred Stone" drew a blank.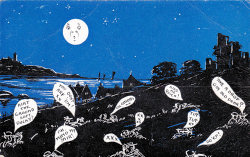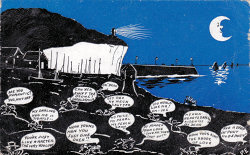 These distinctive cards are listed as being produced by the London View Co and I wondered if they might be an early experiment by "F S" - especially when I found that H. Vertigen was also involved. However it turns out that one of the cards was signed by "P E" and that many other artists/publishers were producing similar cards.
Probably Not by Fred Sprugin
There are also some areas where I carried out research and where it would now seem that Frederick Spurgin was not involved - but there is not enough evidence to completely rule him out.
The "Selwell" Series
"Girls I Didn't Marry" Set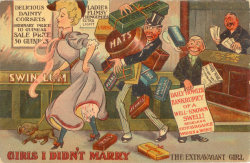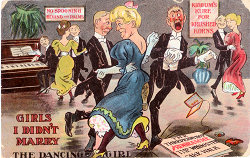 Vertigen clearly published a number of cards signed and unsigned cards by "F S" and also used the same Saxony-based publisher. He also published cards by other artists. Initially I thought that all the cards in the "Girls I Didn't Marry" set were unsigned and might be by "F S" but it is now clear that they were by Ernest Edward Wise (E W).