"Inland Germany" Back
This Space may be used for
Inland communication.
The address only to be written here.
Printed in Germany [Stamp Box]
Publisher (if any) on left margin
All cards signed "F S"
Earliest reported 25 May 1907
Except where indicated the following series were not republished with a different back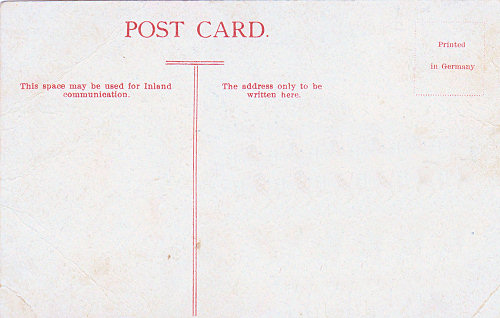 No Publisher
* With modified "Milton"
logo banner line
This group of cards were published in sets of 6, with the same back, are all signed "F S", and in many cases had a publisher's name printed on the left margin of the back. The cards were not republished - suggesting a different publishing arrangement to the cards with other "Inland Postage" backs, most of which were later republished. The group could well represent a natural continuation of the Early Saxony group, but with a German, rather than Saxony, printer.
The earliest known postal date is May 1907 and it seems clear that these cards were printed with the intention of either selling them with no publisher name, or with the "publisher" name added. They may represent some of the last London View Co Ltd cards to be published - and the fact that some sets are not recorded until late 1907 may indicate that they had been printed but most had not been distributed at the time the company folded, and were later sold as bankruptcy stock. In fact the move from the "regular" Saxony printer to a German printer may have been triggered by the Company's financial problems.