While view post cards have a well-defined local market, most comic cards with, for example, a seaside theme, could be sold at any seaside resort. However some early comic cards were designed for particular seaside resorts. One early company which published individually drawn cards for many different places was the Art Publishing Co., Glasgow, and the above 1904 example shows one of their "Keep it Dark" series for Morecombe, with a somewhat later view card for comparison. (See Moonlight Romance for other examples.)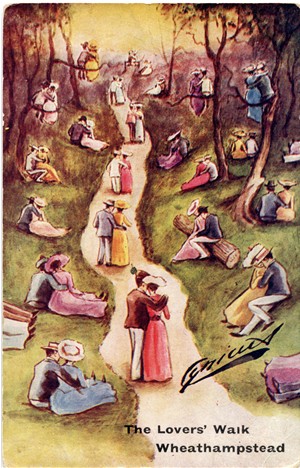 If cards were published with the locality name it was far more economic to have a general design and just change the place name and the Cynicus Publishing Co. Ltd, produced may excellent cards which appear with the names of towns and resorts over most of the British Isles.
In general added place names were not used with "F S" cards - apart from the much reproduced and pirated "It is very Windy" cards - shown here with the words "At Skegness" added.
The "F S" Local Cards
"F S" produced 3 sets of six cards for three different towns, Brighton, Hastings and Southend-on-Sea. In each set some of the cards contain definite local feature - often from earlier London View cards. [Where I have included comparative views from other publishers there may be a London View Co. Ltd. version I have not located.]
Because the cards were aimed at single towns one would expect smaller print runs than for cards which could be sold more widely, and as a result the cards are rare and I have not been able to get thumb-nail images of all the 18 cards. Those published in Brighton also appeared with the publisher given as F G Harwood & Co and there may have been similar arrangements in the other resorts.
Few surviving copies appear to have been posted and the earliest date recorded is 22nd August 1907 for a Southampton card (weeks after the London View Company went out of business.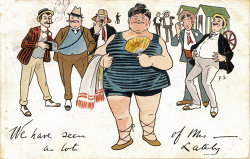 In addition one of the Hastings cards is clearly taken from a London View Co. Ltd. view card suggesting it couldn't have been printed before Summer, 1906. As "F S" had already published a 1906 Seaside set I suspect there named cards were prepared for the summer of 1907, and the closure of the London View Company may have delayed distribution. There is no evidence that any of these cards were republished.
Brighton
Southend

Pa's Holiday at Brighton

He takes two mere-maids to the Aquarium

Pa's Holiday in Hastings

He enjoys himself at the Lovers Seat

Pa's Hliday at Southend-on-Sea

He goes in for the Light Fantastic

The Aquarium, Brighton

1906

Lovers Seat, Hastings

London View Company Ltd.

The Kursaal, Southend (detail)

London View Company Ltd.
The following three cards all illustrate "Mixed Bathing" in a situation where one picture and three separate titles would have been a more effective answer.
Pa's Holiday at Brighton

He goes in for mixed bathing

Pa's holiday at Hastings

He goes in for Mixed Bathing

Pa's holiday at Southend-on-Sea

He goes in for Mixed Bathing
Similar Set of Pa's Holiday at Eastbourne, by J W Davis
Pa's Holiday at Eastbourne

Pa always was bashful

These cards were published by Carter, of 17 Terminal Road, Eastbourne, with identical backs suggesting a 1906 printing date - and were posted in 1907 and 1909. No separate national printer or publisher is identified and in both cases the stamp box is not visible because of the stamp.

Both cards were signed by "J W D" and two WW1 postcards with the same signature and clear line drawing style have been noted on ebay - where the artist is given as J W Davis.

There is no reason to suggest a direct connection

Pa's Holiday at Brighton

"Good gracious! They are particular.