"The Watkins Family of Post Card Publishers"

And their links with the London View Company, Fred Spurgin, DEFCO and Paternoster Row, London.

In the 19th century Watkins & McCombie were a long established firm and in 1883 selling sealing wax and quill pens from 17 Tower Royal, Cannon Street, as this advert from Lloyd's List shows.
Watkins & McCombie Ltd was first registered as a Limited company in 1898 with directors P. W. S. Watkins and P. J. Noble. It was based at 7 Paternoster Row, and was publishing post cards by 1900. In January 1907 the company was acquired by Messrs Sandle Brothers wholesale stationers and postcard publishers of Paternoster Row.
The director Philip Watkins Steer Watkins (1842-1913) was the son of Philip Richardson Steer (1813-1898), chemist, and Catherine Christiana Watkins (1812-1885). He married Jane Ann Faulkner in 1876, and their children were Benjamin Cecil Steer Watkins (1878-1959), Eustace Faulkner Steer Watkins (1879-1970), Beatrice Emma Steer Watkins (1880-1969), Philip Bernard Steer Watkins (1882-1970), Catherine Gladys Steer Watkins (1885-1979), Allan Leighton Steer Watkins (1886-1886) and Owen Noel Steer Watkins (1888-1964). In 1901 the family were living in Croydon. Philip was described as a stationer and his older sons, Benjamin, Eustace and Bernard were described as stationer's clerks, presumably working for their father.
The company Mitchell & Watkins was formed in 1904, initially with offices at 63 St, Pauls Churchyard, adjacent to Cannon Alley (which lead to Paternoster Row). It is known that Bernard Watkins was involved as in July 1905 he visited Miss Newbery, a stationer in Crawley, on behalf of the company. Evidence from other view cards suggest that Miss Newbery was already a customer of Mitchell & Wilkins, and 2 years later she was selling cards printed in Saxony that had almost certainly been supplied by the London View Company. In October 1905 the partners escaped with their lives when the office building burnt down and the business was relocated at 59 Paternoster Row. The "Canon Series" of postcards includes a large number of views of South East England. A small number of comic cards cards by Archibald English and Ernest Edward Wise were being published by 1907. A deed of assignment relating to debts to creditors made in April 1908 indicates the partnership had effectively dissolved by this date.
The London View Company became active in the first half of 1905, based in Aldergate Street, London. During the company's short life its name appears on a wide variety of cards, and it was probably a wholesaler which sold cards produced by other companies, but with its name added as "publisher." However it also appears to be the English agent for an unnamed Saxony company of printers - particularly for the views of towns mainly south of London (earlier covered by Mitchell & Watkins) including seaside resorts such as Brighton, and Hastings. At least one unsigned comic card published in 1905 is thought to be by Frederick Spurgin.
In the first half of 1906 it registered as the London View Company Limited (unfortunately the directors have not yet been identified) and at some stage moved to 11, Long Lane, London E.C. By June it had published the first of the "F S" cards - with a back which suggests the same Saxony printer - and each card either had no publisher, the London View Co. Ltd., or Bernard Watkins, of 13 Paternoster Row. This suggests that Bernard Watkins may have left Mitchell & Watkins by this date. It is also clear that there was some contacts between the London View Company and the Watkins family.
During the rest of 1906 and the first half of 1907 the London View Co. Ltd. published a large number sets of "F S" comic cards, mainly with the same Saxony printer, and many came with alternative publisher names on. More view cards were produce, of a wider range of town, and sometimes with no publisher name or the name of a local stationer or photographer.
"F S" cards published by the London View Company Ltd.
When the company closed down in August 1907 Fred Spurgin undoubtedly had a number of draft comic card sets in preparation. A number of his earlier cards had been sold by H. Vertigen & Co and a number of unsigned cards in the "F S" style, printed by the same Saxony printer, were produced in late 1907 or 1908. However Vertigen was also in trouble and in November 1909 became the short lived H. V & Co. Ltd. and appears to have stopped selling comic cards.
By the beginning of 1908 several sets of "F S" cards appeared in "The Popular Series" in the UK (publisher unknown - could there be a Watkins connection???) and also in the United States, published by the short lived A. Q. Southwick of New York, and perhaps a bit later by the Souvenir Post Card Co. of New York. There are several U.S. unsigned sets, copyrighted 1908, which have not been published in the UK, which may be by "F S." A number of contemporary comic cards in the Popular Series were printed by Delittle, Fenwick & Co. Ltd (DEFCO).
In addition a number of signed "F S" cards started to appear in the second half of 1908, initially with no publisher name or address. The first group had serial numbers between 1000 and 1008 and were printed in Saxony, possibly by the same firm that had printed the London View Co. Ltd. cards The second group were in the "Crown series" and had a back suggesting that the were printed in England by Delittle, Fenwick & Co. Ltd (DEFCO). These cards had serial numbers 1008 or 1009 or there was no serial number. This was followed by a number of cards with a crown logo produced by the short-lived Crown Publishing Company of St Albans. Cards in the "Crown Series" were unsigned but in the "F S" style while the others had a distinctive style and were signed "Karaktus" which is thought to be a Spurgin pseudonym.
Meanwhile, at the beginning of 1908 Eustace Watkins copyrighted some photographed comic cards in the "Burlesque Series", giving the address 51-52 Beech Street, Barbican, London. While there may be no connection, some of the cards are reminiscent of photo comic cards published about a year earlier by the now defunct London View Co. Ltd. The early cards had no publisher information, but after about May 1908 new cards in the series were labelled as published by Eustace Watkins - and it is possible that the change coincided with the break-up of Mitchell & Watkins in April.
At about the same time view cards started to appear published by Eustace Watkins - printed in Saxony in the same style as the earlier London View Co. Ltd. view cards - and covering much the same Southern counties area. The series appears to have moved to the newly formed (and short lived) Watkins & Krake in 1909 - and the last "Burlesque series" card, from about 1910 may indicate that Krake continued to operate from 51/52 Beech Street after Watkins had left. In addition (no dates available) Bernard Watkins published a comparatively small number of Surrey view cards from 13 Paternoster Row which were printed in Saxony but with a different back to the view cards published by the London View Co Ltd in 1907 or Eustace Watkins in 1908. Later (card postmarked 1909) there were cards by B. S. Watkins from West Croydon (which is where Bernard & Eustace's father was living in 1911).
Two other 1909 sets of Watkins & Krake cards are of particular interest, and both sets had the same Delittle, Fenwick & Co. Ltd. back (apart from the decorative heading) to the "F S" cards published in the "Crown Series" in 1908.
The "Satire series" are painted comic cards signed by "Dauber." and the earliest posting date I have seen is June 1909. One of the cards is a painted version of a line-drawing based card produced some months earlier by the Crown Publishing Company of St Albans. A series of "Dauber" Christmas post cards produced in 1909 are followed by stylistically very similar Christmas post cards published by Avenue Publishing Co in 1910, in the "Avenue series" and "Paternoster series", again using Delittle, Fenwick & Co Ltd as printers. There can be little doubt that "Dauber" was Fred Spurgin.
The "Infantastic Series" of unsigned comic cards of young children was also by Spurgin. Publication had started by November 1909 but when the short-lived Watkins & Krake broke up, possibly early in 1910, the series needed a new home and by March 1910 Spurgin seems to have found one with the move to Shamrock & Co of 5 Lovells Court, Paternoster Row and the unsigned "Humorous Art Studies" series. However one must not overlook the similarities with the unsigned "Kute Kiddies" series published in late 1909 by Inter-Art, especially as this company started to publish a large number of signed Spurgin cards between 1911 and 1916 - needs to be considered. What is clear is that towards the end of 1910 Spurgin was producing comparable comic cards showing young children for the "Paternoster Series" published by Avenue Publishing.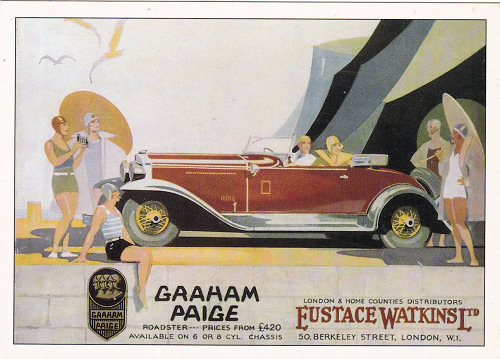 By 1911 the Eustace Watkins had become a dealer in motor cars, and became the largest distributor of Wolseley cars in the world. In 1927 Lord Nuffield brought out Wolseley Motor Company and Eustace acquired their works in Chelsea. Eustace Watkins offered custom coachwork, most notably the Wolsey Hornet Specials some of which were built for Eustace Watkins by Abbey, Whittingham and Mitchell and others.
I have no information on what Bernard Watkins was doing in 1911 but in 1939 he was living in Ealing and described as a director of Whitingham Mitchel Ltd, motor body builders. Of the other brothers in 1911 the oldest, Benjamin Watkins, was a motor car dealer's clerk in 1911 (possibly working for brother Eustace) while Owen was a costume manufacturer's warehouseman. I have found no later family involvement in post cards, apart from the advertising card relating to Eustace Watkin's selling motor cars.
Check Mitchell & Watkins - were they using a Saxony publisher
Croydon stationer and Saxony connection.
Later discussion about DEFco backs.- possibly A LINK TO PAGE