Latest Updates to the

"F S" Catalogue
Under Development
December 2019: The new indexing arrangements are now in place. The "Home" box on the top of the "F S" pages now always takes you to the "F S" Home page and to the master index, with separate scrolling indexes for comic sets, publishers, artists, etc.
Recent Research Updates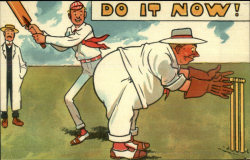 December 20th: The Menu system has been changed to avoid the old vey long scrolling menu - Now there are separate menus for the Comic Sets, Punlishers, Artists, etc.
The "Do it Now" set of cards has been added to the "False Trails" page.
A lot happened between July and December which was not recorded here
July 5th: In addition to the following updates there were a number of minor updates of minor interest.

Some new cards by "Dauber"

(Fred Spurgin)
This back is identical to the Working Space II back, except that it was printed in Saxony rather than Germany. It is not yet clear if there is any connection with the Spurgin or the "Green Back" company but the similarities justify further investigation.

So far the only examples (4) relate to what I am calling the "New Year - New Leaf" series.

For the time being this is cross-referenced under the Other Backs heading.
This addition to the Infantastic series is interesting because by present day standards it is definitely noy "politically correct." Why on earth should the little girl be sad because she has a black skin!

The advert for this card said nothing about the back and at 50p I decided to risk a bid. Spurgin (as "F S" and as "Dauber") had a number of interesting novelty cards.

As the back turms out to be "1d postage supplied" it is poosible that there is a connection but it is too early to come to any conclusion - but more work on novelty cards seems a good idea.
June 30th: Ken suggested that some "Green Back Company" cards may have been by Donald McGill. This has clearly happened in the case ot the "There are spoons" cards - the route probably being transfer of the master via the close downs of the Pictorial Post Card Company and later H. Vertigen.

In the second example it more likely to be a case of one artist copying another, as in the example "It is very Breezy". It is not clear which version was published first.

I will be looking out for more examples.
| | | | |
| --- | --- | --- | --- |
| June 29th: I have significantly revised the Entirely British page, introducing many new card images. In doing so I have found more examples of number only PC II cards being reprinted in Britain after the outbreak of the First World War. One of the examples is this change of uniform - and have cross-referenced it to "The General" page, which records other similar changes. | | 207 [PC II] | 818 Entirely British |
June 28th: While Moonlight Romance reveals something about the relationship between the London View Company and H Vertigen, it turned out to be a False Trail as far as my research into Fred Spurgin is concerned. Howeverit provides a very good example how an interesting idea is copied and developed by various artists and publishers.
June 23rd: The "Green Back" cards include many which include a Lady in a red dress and feathered hat, and some of them have been brought together with a few similar cards produced at about the same time by Inter Art.
[Unclassified]

Harem (Inter Art)
June 22nd: While most of the "F S" have recognised backs a number have individual backs. I have opened an "Other Backs" topics page. In many cases such backs will be the subject of further investigation to see where they fit in the overall picture.
ß This version of "Do You Reverse" has a standard back (Early Saxony)

The other version of the "Do You Reverse" card comes from a different engraving (see foot of bed) and has a back which is not one of the standard "F S" backs.
21st June: I have opened a topics Matched Cards across Series page to record cases where the same basic picture has been used in two different series - especially when different (or no) signatures are involved, or where there is a different publisher. The examples below relate to later unsigned cards (almost certainly by Fred Spurgin) with the later versions signed by Fred Spurgin.
Unsigned 1910

-

F Spurgin

Unsigned 1911

PEACE

Fred Spurgin 1918
20th June: A significant number of updates involving filling in gaps, providing more larger images, etc. under most headings, including the following additions to several of the suggested "Green Back Large Letter Title" series
15th June: Three new Crown Publishing cards, and two new "Fred Stone" cards published by Gale & Polden.
| | | | | |
| --- | --- | --- | --- | --- |
| No 19 of the Karaktus cards - I now have at least some details of all his cards | | I now have a full sized image of this card. Back details added to Crown (3) page | | A completely new addition to the Crown cards - cross-referenced to Adam & Eve |
14th June: A New Home page added which included details of the significant new assessment of the "Green Back" cards, which suggests that most of these cards are very likely by Fred Spurgin - potentially increasing his known output by another 1000 cards or so/.
8th June: Updates include the following cards which are almost certainly by Fred Spurgin:
| | | | | |
| --- | --- | --- | --- | --- |
| A new unsigned and unnumbered Vertigen card. | | This card, and another similar one already on file, are unsigned but have an Inland Vertigen back. | | One of a number of "Green back" cards added |