riginal
Latest Updates to the

"F S" Catalogue
Under Development
This catalogue started as a Hertfordshire Genealogy project to find the artist(s?) responsible for comic post cards published in St Albans in 1908/9, and the project aims expanded to concentrate on the publication of cards by "F S" from the time he produced cards for the London View Company (which went out of business in the summer of 1907) up to the 1911, when he was signing most cards published by the International Art Company with his full name. Fred Spurgin. This research involved many small and often short lived companies.
The project is now coming to an end, although there are still some gaps tp be filled. In line with the educational aims of the Hertfordshire Genealogy web site my working notes are being made available to encourage others to do similar research - and the plan is to try an update every draft page by the end of 2020. Pages with a light blue heading (or a light blue background in the index) have already been checked, although more updates are possible.. Pages with no blue heading are from the original draft working notes and may need checking or amendment.
Recent Research Updates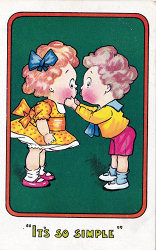 March 7
"F S"'s earlier cards early did not include young children without adults also in the picture, and the appearance of such cards is reported as "Round Faced Children." Originally I considered the Philco series of post cards (see right) might be of interest, but a correction relating to the date of the earliest card makes any connection with "F S" even more unlikely - so this series of children's cards is now considered a "False Trail."
---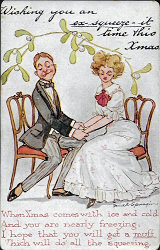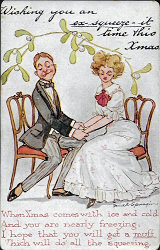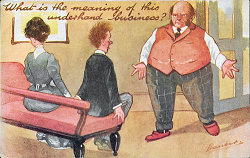 Some Updates to the "Dauber" page.
Note that the Xmas cards are headed with a greating and end with a verse
---
February 24
---
More in the "It is very breezy" Saga.

ß The original "F S" card published in 1907.

An unsigned copy of the "F S" card by "Comicus" (Harry Parlett) first published circa 1912 à
---
February 23
J Mandel & Co and M Ettlinger & Co were companies which only sold a small number of "F S" cards.

I have just added these to cards to the respective pages.
February 22 Many minor additions plus ....
Some of the new or updated cards by "F S"

A Waste of raw material

Signed F S

JWA & Co, London

No 1553

Ah! Happy years! Once more who would not be a boy? Byron Good digestion wait on appetite, and health on both, this happy Christmas Day.

Unsigned No Publisher (PC. I) 45

All the world loves a lover

Signed "F S"

Crown Series 1009 11 August 1910

The Sweet Stuff Girl

Don't Allow customers to help themselves excessively to samples Signed "F S"

The Counter Jumper Let-out

Unsigned

A Report at Headquarters

Signed "F S"

No publisher Late Saxony
February 8 - Some New cards
I hear you're making a big splash

Another "Dauber" card added

Little Boy, suddenly, "Show Hands!"

Published by the Crown Publishing Co., St Albans
---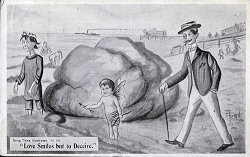 In 1907 Henry Garner was selling "F S" comic cards. but from as early as 1906 he was selling "Song Titles Illustrated" in the "Living Picture Series." A number of these cards were signed and dated "F/S 1906" including the one on the right.

There is no strong reason to think the "F/S" is Fred Spurgin. The song illustrated on the right "Love smiles but to deceive" is from the ballad opera "The Bohemian Girl" composed by Michael William Balfe, with a libretto by Alfred Bunn, and first performed at the Drury Lane Theatre in 1843. I have cross-referenced this series under False Trails.
---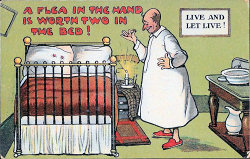 Two more Flea cards have been located in "Series 3098" suggesting that probably all six cards were reprinted in this series. However the date is uncertain (all copies seen are unposted) but a card in Series 309x suggests not later than 1913.
---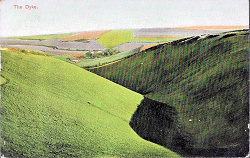 This card, of The Dyke, near Brighton, was published by the London View Company and posted in April 1906 (making it one of the earliest "Ltd" view cards I have seen). It would appear to be the view used to produce the background in a comic postcard in the Pa's Holiday in Brighton Series,
---
January 24 - Some of the more interesting updates in the last week,
---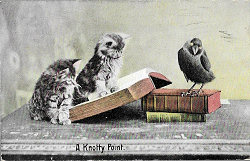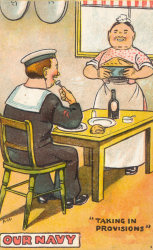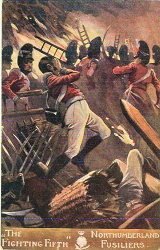 While more work needs to be done on the London View Company Ltd - in particular finding the names of the directors - I have updated the main page to make it easier to find examples of the wide variety of cards that it sold. I have also added some new examples - such as the picture of cats (on the Cats page) and examples of military scenes which I have put on the page for Old Masters & Other Paintings.
A new page "Other Comic Card Artists" has been created and two more "Our Navy" cards by A. E. Hilton, "published" by the London View Company, but with the back associated with Modena, have been added.
---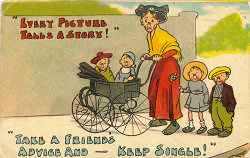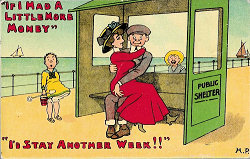 The unsigned picture on the left seems to make links with the "F S" sets "Every Picture tells a story" and "Take a Friend's Advice" so could "F S" have submitted a few post cards to the Hutson Brothers? After a survey of other Hutson Brother cards of about the same date and serial numbers, such as the one on the right, it is now suggested that the artist was more likely to be Harry Parlett - and my research notes are now cross-references under False Trails.
---
One of a number of cards, possibly by "F S," showing soldiers who have "changed" into khaki after the First World War has started.

See The General
---
These are just four of the many card images that have been added to the online site
- but which (in most cases) are not individually recorded here.
| | | | | |
| --- | --- | --- | --- | --- |
| Donald McGill was one of the most significant post card artists at the time covered by this study, and I have created a page giving examples of his work for various publishers. | | | | This card, shows a mother with a pram, has no signature or publisher but is in "Series 3097" along with other cards that are very probably by "F S." |
| | | | | |
| --- | --- | --- | --- | --- |
| | This card was published by Vertigen and shows an aeroplane flying over the sea. It was posted in October 1910, a year after Louis Bleriot had flown across the English Channel | | This card, by Dauber. replaces an earlier version where the image was partly obscured by a printed Christmas message à | |
---
January 14:

Today's update to add new or better card images included four numbered "Green Back" cards with the [PC II] style back.
---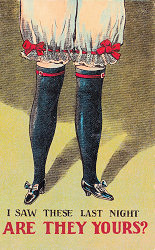 January 13:
Tied up the references to the "Are they yours?" cards by placing the overall story on the Unknown Green Publisher page, with cross-references on the other relevant pages.
---
Noted that similarities between the 1906 USA card and a later possible "F S" card on the Series 309x page - including the virtually identical wording.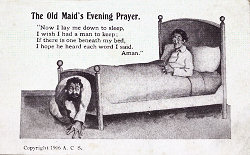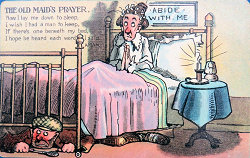 ---
January 11:
On the new page, Pictures overflowing the frame, I have brought together the various "F S" sets which involved a framed picture with features spreading outside the frame. This helps to support the idea that the unsigned US sets Dear Hubby and Dear Wifey were most probably produced by "F. S."
---
The "F S" home page has a been updated to cover the recent work on the It is very breezy page. The opportunity was taken to make some other amendments.
---
January 9: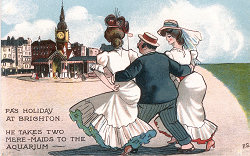 Most "local" comic cards are normal comic cards with added words printed on - such as "At Skegness." However in 1906/7 "F S" produced three sets, each of six cards, and published by the London View Co. Ltd., for the resorts of Brighton, Hastings and Southend-on-Sea.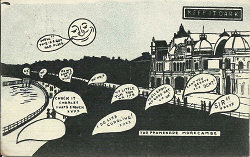 To support these sets I have produced a page, Local Comic Cards, which discusses the general situation for such cards and use as examples the "Keep it Dark" series of Moonlight Romances, to show one publisher which produced many local comic cards (admittedly all on the same theme) as early as 1904.
---
January 4: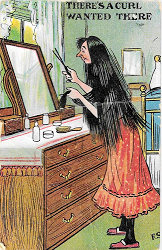 When I brought this card I was not expecting any great surprised as the publisher details on the back were almost complete obscured by the handwritten message. However a few letters and numbers could be identified and by comparison with other cards the hidden text must be:
J W A & Co, London. Nr. 1554.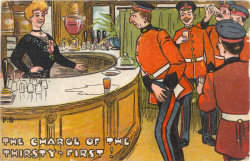 Comparison with other "F S" signed Asher cards (one of which was also hard to read) showed that the four cards currently recorded were numbered 1551,1552, 1553 and 1554, come from different "F S" sets, and all have the same Early Saxony back. It would be interesting to find more examples to see if complete sets were published for Asher, or whether a selection (of six?) cards were made up from individual cards being printed at the same time.
---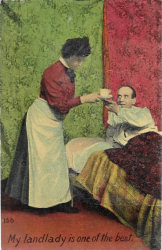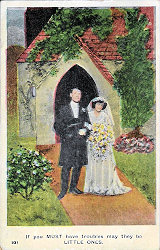 Henry Garner, of Leicester & London, appears as pyblisher on at least six sets of "F S" comic cards. The company also published "Song Titles Illustrated" in the "Living Picture Series" which were signed by "F/S." (possibly just a coincidence of initials).
Byatt states that "By 1909 the company had declined and appears to have ceased operation soon afterwards". What may be relevant is that at the end of 1908 there was a legal dispute between Garner, as the post card publisher and the printers Shaw and Leathley, of Shipley, Yorkshire. The case gave details of a number of cards (artist not named) and I decided to track them down to see if they were by "F S". The fist card I traced was "My Landlady is the Best" and the second "If you must have troubles may they be little ones." Both have printing problems in line with the court case -and while they are unsigned they do not appear to be relevant to "F S", The case throws light on the costs of printing and the standards expected, Two other more conventional drawn comic cards have been found with the appropriate titles, - but cannot be directly linked to Garner.
---
January 2: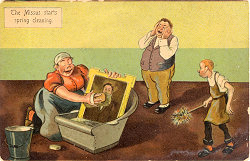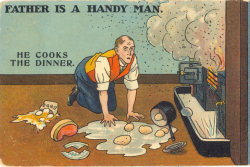 In checking the Joseph Asher pages I have come to the conclusion that, while there were several artists involved, "F S"" never contributed to the Selwell series - and sets such as "Father is a handy man" and "Spring Cleaning" are not relevant - but should be added to the record of False Trails.
---
January 1, 2020: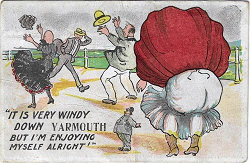 Yet another "look-alike" card has also recently turned up - this time a redrawn mirror image - one version of which as a miniature policeman added - to join the copies made by Donald McGill and "Comicus," As a result I have now identified six different versions of the drawing (almost certainly four are pirate copies)/ Most may have been made after the London View Company Ltd went out of business - so that reprints of the legal copyright version were no longer available. In addition Donald McGill used the fat lady, and some of the other figures, in later versions - some of which were reprinted several times. As a result the "It is very breezy" page has been expanded to include a detailed analysis of the different versions so far located.
---
December 2019: The new indexing arrangements are now in place. The "Home" box on the top of the "F S" pages now always takes you to the "F S" Home page and to the master index, with separate scrolling indexes for comic sets, publishers, artists, etc.
Over the coming months there will be a checking process to transform all my working draft pages up the final content and format for the online catalogue. Important update changes will be reported below, along with all significant additions of new material. As pages are checked some of the "updates" will be reporting on changes between July and December 2019 which were not reported at the time.

---
December 31: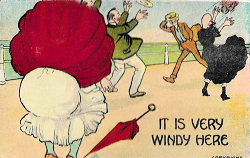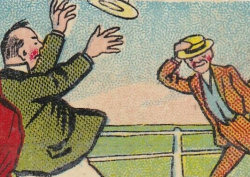 At first sight this unsigned seems to be a normal, but unsigned of the "It is very breezy" card but a closer look shows that the colouring has been done is a different way, It was published by the Continental Post Card Company, Manchester. This company was set up in Liverpool by Joseph Mamelok. another Russian born publisher who had been convicted for selling indecent postcards! As a result I have set up a page giving details of the company, with examples of its output.
---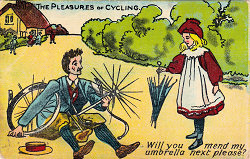 December 30:
The East London Printing Co. page has been updated and it is clear more work needs to be done to clarify the nature of the links with Fred Spurgin.
Both Fred Spurgin and Alexander Bloom, of the East London Printing Company are of similar ages and came to England from Russia with their respective families at about the same time.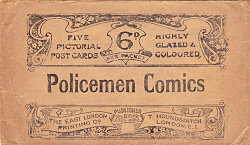 The company published a look-alike set "The Pleasure of Cycling" (artist unknown - possibly not by "F S"?) previously published by Henry Garner which appears to have gone out of business by 1909.
In about 1913 it published a set of five "Policemen Comics"cards which suggests a linkage (perhaps even identity???) with the mysterious "Green Back" company which also reprinted many "F S" cards.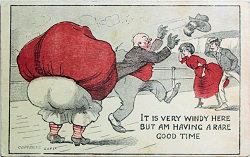 Newspaper accounts may also throw some light on the origin of the simply coloured version of the "F S" "It is vey Breezy" card. Alexander Bloom also published sheet music - some of which had been seized and destroyed because he had made illegal copies. In addition, in 1907 he was found to have printed many thousand indecent post cards. As such it is quite possible that he had this pirate copy printed.
---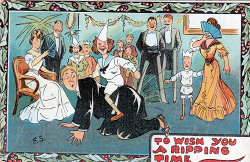 December 24th:
A Merry Xmas from Fred Spurgin
"F S" produced several different sets of Xmas cards. In 1906 they were published by the London View Co. Ltd. and appeared with a holly border. The series "Kiss me under the Mistletoe" may have been published the same year.
In 1907 (after the London View Co had closed) the publisher (if any) is Vertigen and the message appears in a box surrounded with holly.
In 1908 (when the Crown Publishing Co, St Albans, existed he appears to have produced no Xmas Cards,
In 1909 Spurgin Xmas cards were published by Watkins & Krake and were signed using the pseudonym Dauber.
In 1910 similar cards were produced to the previous year, but published by the Avenue Publishing Co in the Paternoster series.
---
In recent months two additional bordered cards published by the Crown Publishing Company of St Albans in 1909 have been added.
I am still missing details of some cards. The numbers I have are:
??, 1043, 1044, 1045, ??, ??, ??, 1049, 1050, 1051, 1052,
??, ??, ??, 1056, ??, ??, 1059, ??
Let me know if you can help fill the gaps.
---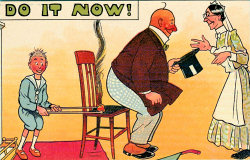 The "Do it Now" set of cards has been added to the "False Trails" page.
---
December 21st: The Menu system has been changed to avoid the old very long scrolling menu (and to correct a fault on the links too the "F S" home page.- Now there are separate menus for the Comic Sets, Publishers, Artists, etc.
---